Rugby Football League accepts proposal to form Bristol-based team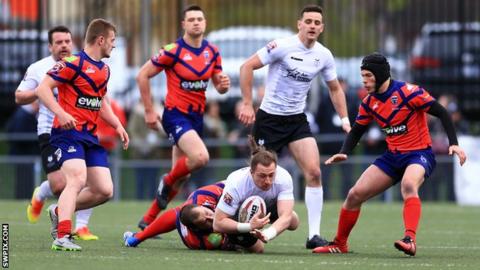 Bristol could host a rugby league club from 2019 after a proposal for Oxford and Gloucestershire All Golds to merge and form a new team in the city was accepted by the Rugby Football League.
The two League One clubs will not compete in 2018, and will instead focus their efforts on creating a viable club to join the third tier in 2019.
The plan depends on significant financial backing and RFL approval.
League One will consist of 14 clubs instead of 16 in the 2018 season.
RFL chief operating officer Ralph Rimmer said: "There is an expectation on all clubs in the professional game to offer a clear strategy that demonstrates their plans to help grow and strengthen the sport in future years.
"Oxford and Gloucester have come to the conclusion that the best way for them to now move forward is by creating a new club in Bristol that is backed by significant support and investment.
"The RFL board has accepted this and is looking forward to seeing further detailed plans for the new club in due course."
Earlier in October, plans for a New York rugby league team to follow Toronto Wolfpack into the English game were submitted to the RFL.
Toronto were promoted from League One to the Championship, the game's second tier, at the first attempt in 2017.
The consortium for the New York club hopes to get the go-ahead in time to enter the competition in 2019 at Championship level.