Rugby League World Cup: Scotland's Danny Brough eyes win to celebrate cap record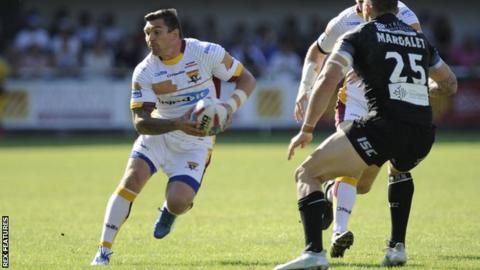 Captain Danny Brough will break Scotland's appearance record on Sunday but says a World Cup victory is more important than personal accolades.
The 34-year-old Huddersfield half-back will win his 24th cap against Tonga at Barlow Park in Cairns.
That will beat the record he shares with Andrew Henderson, the newly-appointed Warrington assistant coach.
"Although it will be nice, I'd probably swap it for the team to put in a good performance and get a win," he said.
"It's a great achievement - something I'm really proud of.
"I'm still hoping to get a few more."
Steve McCormack's Bravehearts, who reached the quarter-finals at the 2013 World Cup, have risen to fourth in the world rankings and earned a surprise draw with New Zealand in their last match, a Four Nations meeting in Workington.
But the Scots have been hit by a spate of injuries that has left only nine survivors from that 18-18 draw in November.
And they find themselves in the hardest group alongside the Kiwis and Pacific heavyweights Tonga and Samoa.
Three teams go through to the quarter-finals, but New Zealand will be an entirely different prospect on home soil and both Tonga and Samoa have taken advantage of the relaxed international qualification rules to bolster their teams.
Jason Taumalolo is the most eye-catching capture for the Tongans, while Andrew Fifita was actually named in Mal Meninga's Kangaroos squad until switching.
"They've got a great team," acknowledged Brough. "We're underdogs once again, but it's a tag we relish.
"We're not expected to do anything, it's all about Tonga.
"You can't just look at one or two people in their team, you've got to look at the collective and they've got a quality squad. We have to be at our best if we're going to challenge them.
"If we give 100%, I'll be really pleased and hopefully we'll come up with a few shock plays ourselves and try to squeeze a result."
Scotland play two of their group games in Cairns, with a trip to Christchurch sandwiched in between, and they have been using the facilities at the James Cook University to help them prepare for the tropical conditions.
"The university has been great," Brough said. "We've been on exercise bikes in a heat chamber set at about 35 degrees to get used to the heat and humidity and it's been really helpful.
"It was about 31 this morning and, as the day goes on, it generally gets a bit warmer, so hopefully this will stand us in good stead."
Brough was among a host of players rested for last Friday's warm-up match against a NSW Country Under-23s team, who handed out a 50-14 thumping to McCormack's men.
"Although it was a poor performance, there were three or four players who played pretty well," Brough added.
"A few of them let themselves down, but we've glossed over that now. Steve has picked a team he thinks can challenge the Tongans."