Rugby League World Cup 2017: How has the sport become so popular in Lebanon?

By Dave Woods
BBC rugby league correspondent
Last updated on .From the section Rugby League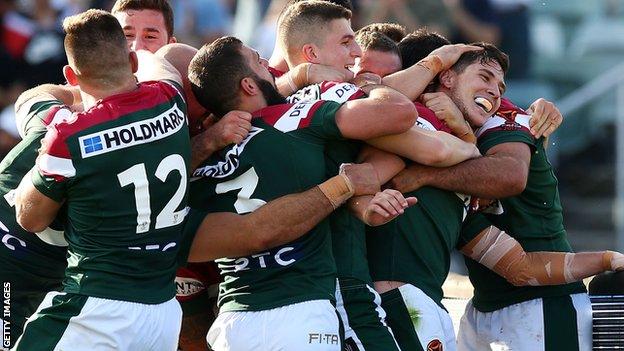 England v Lebanon - Rugby League World Cup
Venue:
Sydney
Date:
Saturday, 4 November
Kick-off:
09:00 GMT
Coverage:
Watch live on BBC Two, Connected TV, online & the BBC Sport app from 08:30 GMT, listen to live commentary on BBC Radio 5 live sports extra and follow text commentary on the BBC Sport website and app.
England face Lebanon for the first time in the World Cup on Saturday - a game that you can watch live on BBC Two with coverage starting at 08:30 GMT.
Two days later Lebanon made history by winning their first match at a World Cup, defeating France 29-18 in Canberra. It was a historic match for a fledging team - but one with a fascinating if short history in rugby league.
Lebanon have a rugby league team? How did that happen?
There is a Lebanese community of around 200,000 living in the suburbs of Sydney - the venue of Saturday's game - and most of them are rugby league fanatics.
From that community several stars of the game have emerged, such as Hazem El-Masri, who was the highest points scorer in NRL history when he retired in 2009.
The current Lebanon squad includes players who are household names in Australia - among them, hooker Robbie Farah, the Cedars captain, and emerging star Mitchell Moses.
In the late 1990s, two brothers, John and George Elias, decided to put together a team from the community to play in the Sydney 7s. Then a full Lebanon side was assembled and qualified for the 2000 Rugby League World Cup.
At that tournament they were hammered 64-0 by New Zealand, but only lost narrowly, 24-22, against Wales and drew with the Cook Islands.
But they were just a bunch of Aussies who hadn't even stepped foot in Lebanon, right?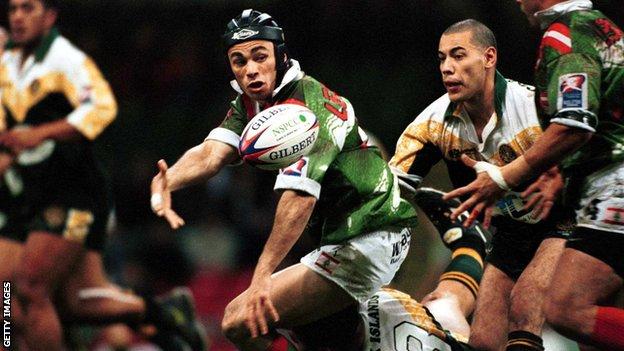 That's right. They all had close family ties to the home country, but few, if any, had ever been there.
But on the back of that 2000 World Cup the decision was taken to actually start developing rugby league in Lebanon itself for the very first time.
A young journalist-turned-administrator, Danny Kazandjian, put together plans to introduce the sport into universities and schools in Beirut, Tripoli and other towns and cities.
"My mum worked for the United Nations in Beirut and my dad was brought up in Lebanon, so I had an understanding of the country," says Kazandjian, a long-time rugby league nut.
"The sport scene is carved up along sectarian and political lines. The most prominent football and basketball clubs are popular because of their political background. And there are 17 different religions in Lebanon, each with their own governmental department.
"We decided to target universities because they are apolitical and therefore we could appeal to everyone."
Has it been a success?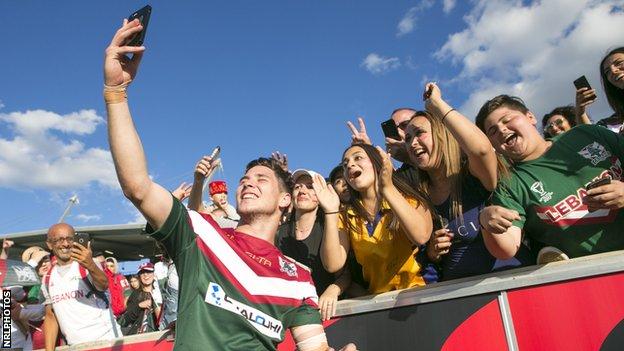 Yes, rugby league has become a game for all, with Muslims and Christians in the same teams, unlike other sports in the country. And all different political backgrounds are represented.
From having no rugby league whatsoever in Lebanon when the 2000 World Cup was taking place, there is now a thriving community within the country. The main league features five championship clubs and the sport is also played in 12 universities and 10 schools. Around 1,000 players are registered as playing with the Lebanon Federation. There are also junior teams for 14 year olds upwards.
This year a Lebanese women's side played an international game against Italy and a women's league is planned for next year.
The sport is funded by the Lebanese government, but it's a constant battle to increase resources.
League in Lebanon
National team played first match in 1998 - defeating Japan 52-28
Qualified for 2000 World Cup but were knocked out in the group stage
Currently ranked 18th in the world, they defeated France 29-18 in their opening match at 2017 World Cup
Lebanese Rugby League Federation was formed in 2003 - now has more than 1,000 registered participants
Five teams - the Immortals, Jounieh, Wolves, Tripoli RLFC, and the newly introduced Lycans - contest the top championship
The season starts in November and ends with the Grand Final in April
Is there any real media interest in rugby league in Lebanon?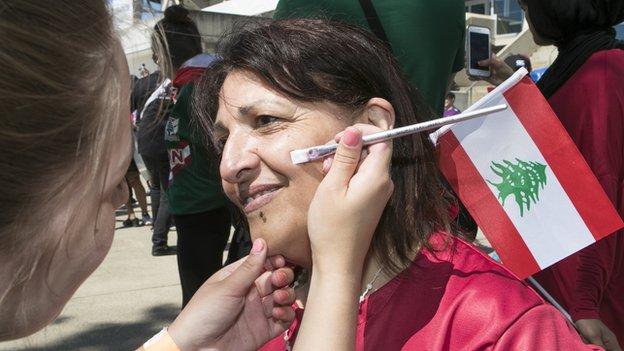 The World Cup is being televised across the country. And Prime Minister Saad Al Hariri tweeted his congratulations to the Lebanon team after their first World Cup victory over France last week.
"During World Cup qualifying in South Africa, two channels sent film crews out to cover the matches," added Kazandjian.
"The print media covers it fairly extensively too. We had a big story of a local championship match in one newspaper and half the page was about one of our players. In a little box in the corner, there was a picture of Cristiano Ronaldo because a round of the Champions League had been on as well. That showed we had really arrived on the sporting scene in Lebanon."
But this is still a bunch of Aussies playing for Lebanon in this World Cup, isn't it?
True, the majority of the squad are Australia-born and raised. But most now make regular trips to the home country of their parents and grandparents to help with development of the game. And the team's coach, Australian legend Brad Fittler, says he's struck by the patriotism of his players.
"They all have close ties to Lebanon, there's no doubt about that," says Fittler, a one-time World Player of the Year and former World Cup-winning captain of the Kangaroos.
"The majority have both Lebanese parents. And if anyone has kept their identity in Australia it is the Lebanese community. They live together, they eat together - they've kept their identity more than most other nationalities that have come to this country."
So what about the future? Any signs that Lebanon will have more domestically produced players by the next World Cup?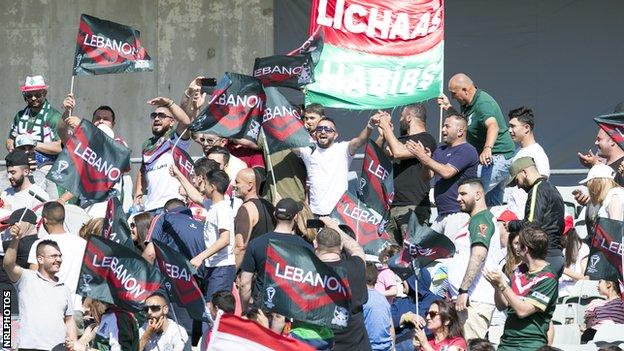 This year's 24-man World Cup squad features one home-grown player - Raymond Sabat, a 20-year-old outside back who plays with Lycans RL in Beirut. Four other Lebanon-born and raised players are travelling with the squad to help develop their skills. And a group of Lebanese coaches and match officials have been flown to Sydney by the Australian government for a series of training courses.
"Migration rates from Lebanon to Australia are not what they were post-war," added Kazandjian. "So the number of players available using the grandparent and parent rule isn't going to be the same in 10 or 15 years as it is now.
"It is essential for countries like Lebanon to ensure there is a clear, robust cultural link between the country and the national team.
"Lebanon fields national teams at under-21s, under-18s and under-16s - last year the U21s and U18s toured Serbia - so the pathways are there now."
The men from Lebanon learning with the squad
Ali Abou Arabi
- the 24-year-old lives close to Beirut and plays for Tripoli. Gave up his job to travel to Australia in the hope of making the squad.
Imad Chidiac
- the 21-year-old half-back is a student who plays for Immortals.
Toufic El Hage
- 21-year-old studies at the American University of Beirut and plays for Wolves
Wael Harb
- the 30-year-old was the top try scorer in last year's Lebanese championship. Also played union for Lebanon and played a key role in helping the Cedars qualify for the current RL World Cup.
Will they be a threat to England this week?
"We'll need a lot of luck to beat them," admits coach Fittler.
Whilst the Cedars do have a smattering of NRL stars in their ranks - hooker Farah, who plays at Souths with Sam Burgess, Moses of Parramatta Eels, an exciting attacking back, and prop Tim Mannah, also of the Eels - most of the squad are part-time players.
In fact, on their day off from training this week, several of them had to go back to their day jobs around Sydney as builders and electricians to keep their full-time employers sweet.
Their eye-catching 29-18 win over France, though, should be enough to see them through to the quarter-finals, probably against New Zealand or Tonga in Wellington. And that would be an incredible achievement for a side that is truly planting the seeds for a new generation of rugby league talent in the Middle East.
You can follow the fortunes of your favourite team with live match notifications sent straight to your phone or tablet via the BBC Sport app. Line-up, kick-off, score, half-time and full-time options are available for all teams participating at the World Cup.