Dominique Peyroux: St Helens centre signs new one-year contract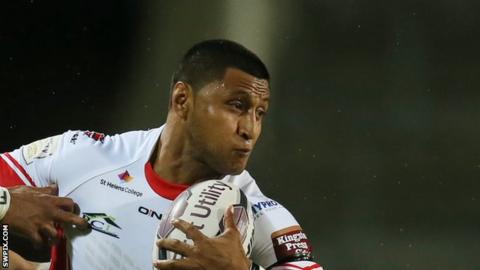 St Helens centre Dominique Peyroux has signed a new one-year contract with the Super League club.
The 28-year-old joined from National Rugby League side New Zealand Warriors at the end of the 2015 season and has made 46 appearances for Saints.
"I'm blessed to have re-signed. We did well in the back end of this year and we were unlucky to miss out on the Grand Final," Peyroux said.
"I'm looking forward to working hard in pre-season and starting well in 2018."
Peyroux, who previously played for Sydney Roosters and Gold Coast Titans, has made eight appearances for the Cook Islands and three for Samoa.
"We're pleased to have retained Dom for the 2018 season. He was one of best players towards the back end of last season after working hard in training to regain his place in the side," Saints head coach Justin Holbrook said.
"I've been impressed with his work ethic since I joined the club and he adds vital experience and depth as we look forward to the new campaign."