England v Papua New Guinea: PNG - the country where rugby league is a religion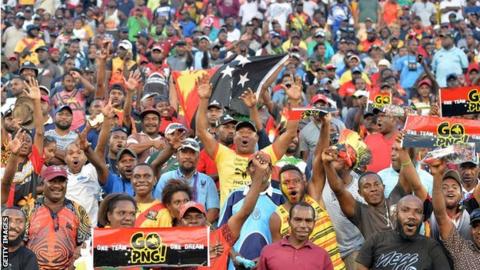 In Papua New Guinea, rugby league is close to being a religion.
Locals will walk for hours over mountains and through jungles just to watch a game. Star players are treated like gods.
It may be one of the most culturally diverse and intimidating countries on earth, but one cause unites all: rugby league.
"We've got about 800 languages. We have tribal problems and politics," says PNG hooker Paul Aiton.
"But when it comes to the Kumuls, our national team, everyone supports that one thing."
The stories that come out of PNG and its obsession with rugby league would be the stuff of legend, were they not true.
There's the tale of how 1980s Great Britain stars Andy Gregory and Joe Lydon got lost driving a hire car somewhere outside Port Moresby and feared for their lives when surrounded by tribesmen.
But the threat instantly evaporated when those spear-carrying locals recognised them as greats of the game.
On a different tour, the then Great Britain captain Brian Noble and a few of his team-mates started playing a game of imaginary cricket to while away a couple of hours outside an airport.
"Within a few minutes we had a crowd of a few hundred surrounding us and applauding. We didn't even have a bat or ball, but they knew who we were and just wanted to watch us clowning around," says Noble.
Many a match has been interrupted with players ordered to lie face down on the pitch as police fire tear gas into the crowd to quell passions.
And many a team have walked off the field wearing only their jock straps, as giving away shirts, shorts, socks and boots was the only way players could reach the team bus safely.
On the last GB tour to the country in the 1990s, a couple of players and English journalist Dave Hadfield had to gallop across a car park to jump on to a bus that had already started its hurried exit from the stadium.
Behind them hundreds of locals were racing after them. They probably didn't offer a threat - they just wanted to touch these heroes from afar and grab a memento or two - but neither players nor scribe were willing to hang about to find out for sure.
The rugby league mania began in PNG in the 1930s when a mining boom led to thousands of Australians flocking to the country.
The Aussies' love of the 13-a-side game was picked up on and turned into a passion by the Papuans.
One theory is that the game became so popular in that part of the Pacific Ocean because it was a replacement for tribal warfare.
But Aiton, a Super League star at Wakefield, Leeds and now Catalans, says the passion - if that is possible - has been ramped up even further in this World Cup.
"It's awesome, but it can be a bit much sometimes," he tells the Radio 5 live Rugby League Podcast.
"You can't leave the hotel. It's pretty full on. The other teams who played in our pool got an experience of that. It's amazing."
They certainly did. Players, coaches and supporters of Ireland, Wales and the US have returned from Port Moresby, after playing games in the group stages, with wide-eyed wonderment.
"It was a life experience," says Wales coach John Kear. "Simply incredible. We had to have police escorts wherever we went."
There are plans to mine the passion for rugby league in PNG and create a team that will play in Australia's National Rugby League (NRL). The first steps towards that end have been taken in the past few years, with a new club, PNG Hunters, created.
This year the Hunters played in the Queensland Cup, a second tier but highly respected competition similar to England's Championship. They won it.
That said, a Sydney-centric NRL is unlikely to give the go-ahead for full-on membership until 2022 at the earliest, given the current TV deals in place. Even then PNG would be up against likely bids from Perth and a new club in Brisbane to join Australia's money-spinning big league.
But the Kumuls' performances at this World Cup have so far more than satisfied the national obsession for the game.
All three group matches in Port Moresby were played in front of sell-out crowds. Many fans will have walked for miles just to watch the action on television.
A huge swathe of the population watched on TV when PNG took on England in Melbourne on Sunday.
In 2000 in the UK, PNG had their best World Cup, guided by Bob Bennett, the brother of the current England coach Wayne.
An estimated two million people watched them reach the quarter-finals, where they lost 22-8 to Wales.
That is an incredible number when you consider that there are only 8m people in Papua New Guinea and the vast majority live in remote communities in hills and jungles.
Playing England, though, is undoubtedly the Kumuls' biggest test so far. The match - shown live on BBC Two - took place in Melbourne.
They have a smattering of superstars - Aiton, Brisbane Broncos full-back David Mead and James Segeyaro of Cronulla Sharks.
But the majority of players in the squad are drawn from the PNG Hunters side or the junior ranks of the NRL. They will bring a lot of physicality and emotion to the occasion, but whether they can add the deftness required to defeat England remains to be seen.
Aiton, though, is daring to dream.
"Oh man, yeah! We'd make history again," he says. "We'd be making history for our country and our families.
"There's no reason why we can't and I'd love to be a part of that team."
You can follow the fortunes of your favourite team with live match notifications sent straight to your phone or tablet via the BBC Sport app. Line-up, kick-off, score, half-time and full-time options are available for all teams participating at the World Cup.