Rugby League World Cup: Will World Cup joy finally come for Sam Burgess?
By Paul Fletcher
BBC Sport
Last updated on .From the section Rugby League171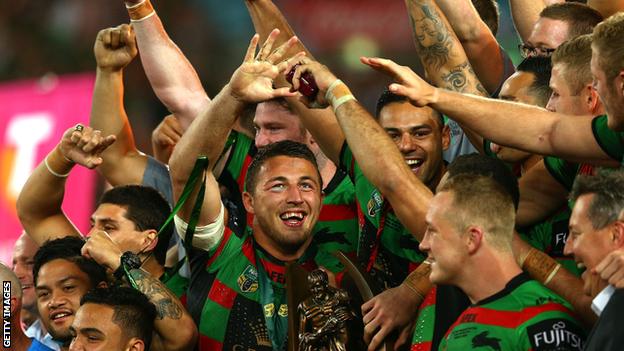 Rugby League World Cup final: Australia v England
Date:
Saturday, 2 December
Kick-off:
09:00 GMT
Coverage:
Watch live coverage and highlights on BBC One, Connected TV, online & the BBC Sport app; live commentary on BBC Radio 5 live; live text commentary on the BBC Sport website & app
Sam Burgess was on top of the mountain in the summer of 2014 and it is fair to say he has not been anywhere near since.
That could change this Saturday when he walks out at the Suncorp Stadium in Brisbane to take on holders and huge favourites Australia in the World Cup final.
England haven't been there since 1995, no team from these shores has won since Great Britain in 1972. Australia have dominated the tournament, winning 10 times in 13 attempts.
But if - and it's a huge if - Burgess can inspire those around him once again then he might just experience something to rival his triumph three years ago.
Back then, he inspired South Sydney Rabbitohs - the grand old perennial failures of the National Rugby League - to their first Grand Final victory in 43 years.
He had done this despite sustaining a fractured cheek in the opening tackle of the game - a collision that was with his England room-mate but ferocious on-field rival James Graham.
Burgess, right eye closed by the end of the game, was awarded the Clive Churchill medal as the man of the match. He is the only Englishman to win it.
He is not a man prone to hyperbole but ask him about that year now and his thoughts are very clear - "that was really something very special".
Burgess had a dream lifestyle in Sydney. He was an easily recognisable and popular celebrity. He played alongside his three brothers at Souths and lived close to his mother, a languages teacher who had relocated from West Yorkshire and found herself watching Rabbitohs games alongside owner Russell Crowe.
There was a documentary made by Fox Sports in Australia called Slammin' Sam, an hour of prime-time TV all about Burgess and his journey to the top, released towards the end of that memorable 2013-14 season.
It was narrated by his friend and confidant Crowe, who talked in gushing terms about the "sparkly-eyed man" who had taken a punt on a dream that he believed in and conquered the toughest league in the world.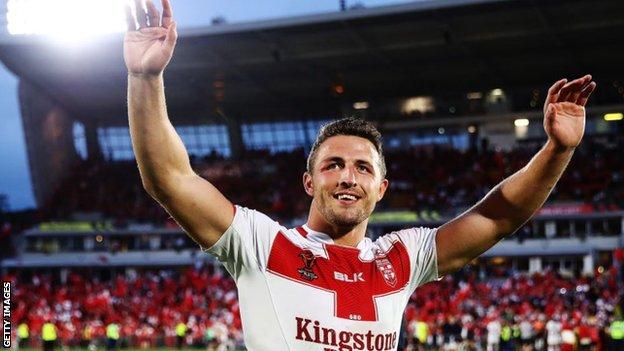 But he walked away from it all, to rugby union and a life in Bath that never looked like a comfortable fit. To a World Cup campaign on home soil that ended with England's elimination at the group stage in 2015 and plenty of fingers pointed in his direction.
When, a year after converting to union, he in turn walked away to return to his beloved Souths, Micky Cleary wrote in the Daily Telegraph: "The supposed leader of men has succeeded only in leading many people up the garden path."
Publicly Burgess has always spoken passionately about the contribution he made in his year in union and the dedication he showed.
Only a few weeks ago he went into defensive mode again on BBC Radio 5 live, responding to comments made by former Rugby Football Union director of rugby Rob Andrew, who questioned his inclusion in that World Cup squad two years ago in a book he wrote.
"Rob wasn't really around the camp, Rob didn't see the work I put in, Rob didn't see how I contributed to the squad," said Burgess.
"Rob's sitting from - in my opinion - an outsider's view. He's trying to sell his book."
But he really, really does not like talking about it and it must have been a bruising and difficult time for Burgess.
For the first time he was leaving behind a situation where many felt he had failed. Up until that point he had dealt with every challenge, stared down adversity.
Ten years ago a colleague told me about an interview he had just done with a young but apparently hugely talented rugby player. It was Burgess.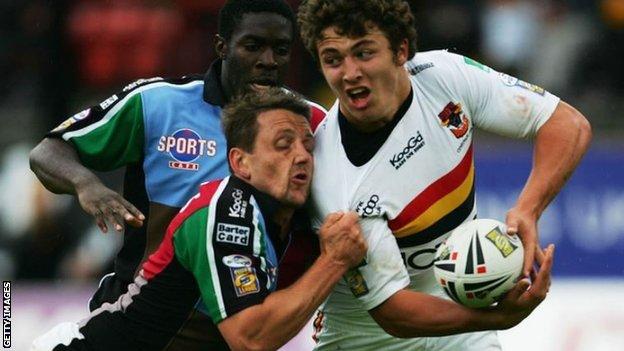 What impressed him about this young lad, just turned 18, was not so much his huge potential on the field but his maturity off it.
He spoke at length about caring for his dad, a former league player himself now struck down with motor neurone disease. About carrying him upstairs to bed, about the way it ate into his spare time but he didn't care because his dad had always been a role model and inspiration for him.
Burgess faced the situation head on, and carried the same determination and almost unbelievable levels of self-belief into his league career.
He seemed to have reached his late teens almost fully formed. A monster of a man, 6ft 5in, 18st. Confident, courageous and well regarded. A man who has always relished what he rather clinically describes as "contact".
After England defeated France in their 2013 Rugby League World Cup quarter-final, all anyone wanted to ask Burgess about afterwards was his forthcoming meeting with New Zealand's Sonny Bill Williams.
Burgess had floored Williams with a huge tackle after the Kiwi's return to rugby league from union earlier that season.
The Rabbitohs were playing Sydney Roosters. It was Williams' first match and Burgess, ball in hand, ran straight at him, then over him.
Veteran Aussie summariser Phil Gould summed it up perfectly, saying: "Look - he ran straight at him, there's your confrontation".
"Whether we come in contact or not I don't know but certainly the respect is there," said Burgess, before the New Zealand game.
Contact. Respect. Two words that sum up his career.
He broke into the Bradford team in 2006 aged 17 and, by the end of the decade, had become one of the biggest stars of the British game.
Playing against Australia at Wigan in 2009 and with his side trailing 26-0 he came off the bench and barged over the line to kick start a mini-revival as England scored 16 unanswered points after the break.
The Aussie press that day were seduced by the size and direct running of another name unfamiliar to them - former Huddersfield prop Eorl Crabtree. Throw in that Crabtree is the nephew of wrestler Big Daddy and they had a great story.
But the real talent was Burgess and he looked set for a decade at the top of the British game. But he turned his back on it all for an uncertain future in Sydney.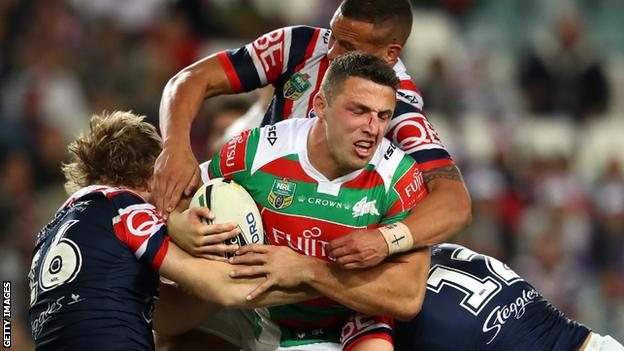 Second time around, there was nothing smooth about his return to Sydney in 2015. There were problems with the salary cap and players had to make way to accommodate him. He didn't have a full pre-season and picked up a neck injury not long into the season.
He returned to a side in transition. Souths finished third in the table the year they won the Grand Final, two points off top. Burgess made more metres that season than any other player.
They finished 12th out of 16 in 2016 and again this year, when Burgess skippered the side in the absence of the injured Greg Inglis.
"We've not had the success at Souths I would've liked but it took us four years to get there in 2014," said Burgess.
"We have now got a completely new squad and a new coach - although right now my mind is fully focused on England.
"We have been building for a while here and I guess it comes to a head this weekend when we play Australia in Brisbane."
Slammin' Sam
Born in Dewsbury, West Yorkshire on 14 December, 1988
Made his debut for Bradford Bulls in 2006 and remained with them until moving to South Sydney in 2010
Became one of the NRL's star players before moving to rugby union side Bath in 2014
While at Souths he played alongside brothers Luke, George and Thomas
Played in England's unsuccessful rugby union World Cup campaign in 2015 before returning to Souths
Captained England at 2016 Four Nations
Arguably, he is due some good fortune at a World Cup.
He had missed the 2008 Rugby League World Cup through injury. The 2013 campaign ended agonisingly when Shaun Johnson scored the winning try in their semi-final against New Zealand with 21 seconds remaining. He was part of a national humiliation in the union tournament in 2015.
And this year, he was injured in the opening defeat against Australia and missed the next two games.
Last weekend he put in a brilliant performance but could only watch on from the bench as Tonga almost snatched away England's place in the final with their trio of late tries.
"Up until 78 minutes I was feeling alright," explained Burgess - before adding with more than a touch of understatement. "But then I got a bit nervous."
Does he feel that finally this may be his time?
Burgess is not a man who likes to be drawn into the question of what might happen, or how good a victory would make him feel. He is much more comfortable talking about the "incredible mateship" in the England camp and how coach Wayne Bennett has created an environment where the players can be honest and open with each other.
But he does admit that "I do think things happen for a reason".
In the documentary about him, Crowe says of the sparkly-eyed man that he "has this thing built within him never to quit".
Burgess reckons that fatherhood has matured him and that he is more aware of his position as a senior player in the team, of the greater responsibility that brings.
But he is quite clear about this - "the hunger and the drive have not weakened".
He's going to need all of that desire in Brisbane on Saturday against a formidable Australia side that have never been beaten under Mal Meninga.
They are a team that Burgess admits have been "pretty complete" so far at the World Cup.
But if he can rediscover the sort of performance that saw him win the Clive Churchill medal, then Burgess might find himself at the top of the mountain once more.
You can follow the fortunes of your favourite team with live match notifications sent straight to your phone or tablet via the BBC Sport app. Line-up, kick-off, score, half-time and full-time options are available for all teams participating at the World Cup.