Ryan Bailey: Ex-England & Great Britain prop avoids ban after 'landmark' drugs case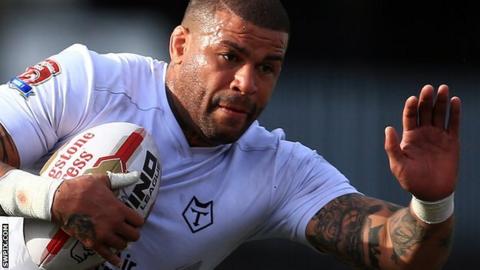 Former Great Britain prop Ryan Bailey has escaped a drugs ban for refusing to submit a test sample, after a "landmark" case against UK Anti-Doping.
The Toronto player, 33, was charged with "evading, refusing or failing to submit to sample collection" at the club's Lamport Stadium in May 2017.
He was worried water from the doping officer may have been contaminated.
The National Anti-Doping Panel ruled Bailey "bears no fault or negligence" on the basis of psychiatric evidence.
The tribunal added that he had committed an anti-doping rule violation, but because of the "truly exceptional circumstances", the "applicable period of ineligibility was eliminated".
The National Anti-Doping Panel is the UK's independent tribunal responsible for adjudicating anti-doping disputes in sport.
It is understood to be the first time that a player has escaped punishment after refusing to take a drugs test.
The legal team that represented Bailey, a six-time Super League champion and three-time World Club Challenge winner with Leeds, argued that testing was a "shambles".
It was claimed by Bailey at the time of the test that some bottles of water made available to him by the officer from the Canadian Centre for Ethics in Sport (CCES), who was acting on behalf on UK Anti-Doping, seemed not to be sealed.
There was no evidence to suggest that the water had been contaminated.
'Landmark case'
Psychiatrists were called upon in evidence to explain Bailey's actions.
"Although Mr Bailey was told that his refusal might be an anti-doping rule violation (ADRV) and that the consequences might be serious, his mind was quite unable to take in or process this information," tribunal chairman Robert Englehart QC wrote in his decision.
"On that basis, we do not believe it to be right to conclude that he was at fault or negligent. It would be unfair to Mr Bailey and inconsistent with the approach of the ADR in its definition of fault to judge his actions artificially."
Englehart noted that Bailey had a drug test "without any problem" days later and provided a negative sample.
"Having heard Mr Bailey give evidence, we do not for one moment think that he is a cheat or was trying to cover up drug taking," Englehart said.
Several sections of evidence were redacted in the published report.
David Seligman, specialist sports lawyer who was involved in the case with legal firm Brandsmiths, told BBC Sport that it was an extremely difficult case to argue.
"This was a landmark case, in which a number of sensitive issues had to be decided by the National Anti-Doping Panel," he said.
"On the one hand the panel must uphold the integrity of rugby league, but on the other hand this was a situation where Mr Bailey genuinely was not at fault for refusing to provide a sample for testing."
Bailey has previously discussed struggling with depression during stints with Hull KR and Castleford in 2015.
Toronto Wolfpack play in the English domestic league system and, in their first season as a professional club, won the third-tier title in 2017.
Brian Noble, the former Great Britain coach who helped guide Toronto to promotion as director of rugby, said "the correct verdict had been returned".
He added: "As an organisation we have a duty of care to Ryan both as a player and as an employee. It was important to support Ryan through this difficult personal process, and help him emerge with what we believe is a fair outcome."
Bailey will available to play for Toronto in the Championship in 2018.