Roger Draper: Chief commercial officer to leave RFL senior role in January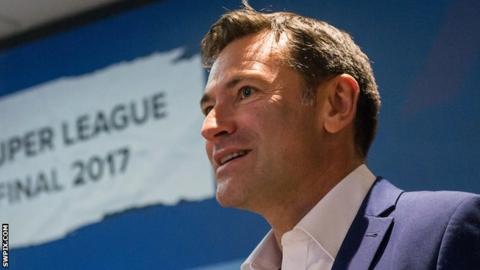 Rugby Football League chief commercial officer and Super League executive director Roger Draper will leave the organisation at the end of January.
Draper, whose move to rugby league came with Warrington Wolves in 2014, previously worked as CEO at the Lawn Tennis Association and Sport England.
His exit comes days after the departure of RFL chief executive Nigel Wood.
The decision to leave, Draper says, will allow him to "commit time to his other business interests".
"With a number of significant commercial announcements due in the coming weeks and the new season about to begin, I believe that now is the right time for me to move on," Draper said.
"Leaving before the start of the season will allow my successor the necessary time to continue the important work of bringing in vital commercial revenue."
The RFL posted a 19% increase in commercial revenue for the 2017 season.
Acting chief executive of the Rugby Football League Ralph Rimmer, said: "I would like to thank Roger for his hard work and contributions in his time here at the Rugby Football League."
Rimmer has restructured the executive team at the RFL in light of the departure, with Mark Foster taking on commercial and marketing operations, Karen Moorhouse responsible for the regulatory side of the business and Tony Sutton in charge of central services.
There will be further announcement to confirm the appointment to fill a senior on-field responsibilities role.