Tom Johnstone: Wakefield Trinity winger grateful to physios after injury recovery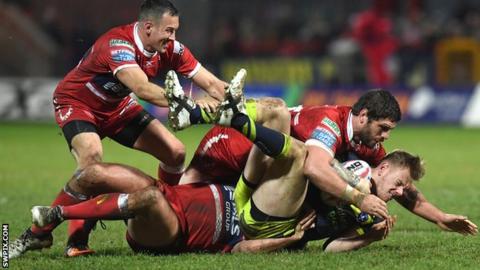 Winger Tom Johnstone has thanked Wakefield Trinity's physiotherapy staff for the rehab work that led to hat-trick on his return against Hull KR.
The 22-year-old had been out for 10 months with a serious knee injury and Friday's victory was his first competitive action since May 2017.
He spent much of last year recovering and working towards his return.
"I really struggled physically and mentally with the rehab," Johnstone told BBC Radio Leeds.
"You get different sessions doing rehab, so you don't get involved with the boys as much and you feel a bit isolated doing your own thing.
"It was less lonely at times when other players were injured too, but other times you felt like you were on your own - chugging away. But the physio staff did an awesome job, everyone carried me through."
Born in Germany to a military family, Johnstone was a schoolboy sprinter as well as a rugby league player with Stanningley before joining Wakefield.
His first season with Trinity ended with nine tries in 13 games, followed by 20 scores in 25 appearances in 2016 and then eight in 12 before injury struck last term.
'Someone chopped my legs, I panicked"
Johnstone was reintroduced by Trinity boss Chris Chester during pre-season, and the winger repaid his faith by scoring another hat-trick against Halifax as he improved his match sharpness.
However, the return to competitive action in Super League was a different challenge - emotionally and mentally.
"I played a couple of pre-season friendlies," he added. "In the first one I played, someone came in and chopped my legs, and I panicked a bit.
"Because of all the rehab work the contact felt fine. But coming into this there were lots of nerves. Having had a good run of games the year before, I wasn't getting as nervous and felt a lot more comfortable.
"In the back of your mind, there's always the doubt about it going wrong.
"The boys just said 'do your job, you're in the team for a reason, just keep going and you'll be fine'."
Justifying coaches' faith
Chester's decision to go with Johnstone was a difficult one, particularly given the success of fellow winger Mason Caton-Brown in 2017.
Former London and Salford man Caton-Brown scored 21 tries in 22 games last season and had been vying for the spot.
"Up until Wednesday he wasn't in my starting 17," said Chester. "The decision paid off in the end."
Trinity emerging as a 'special' team
Trinity were showing signs of a developing side when Johnstone suffered his injury, and without him they continued to impress despite missing out on the top four by just a point last season.
Winter recruitment has only strengthened the quality in the ranks at Belle Vue, and Johnstone is impressed by the camaraderie that exists within the squad.
"We were a new team at the start of last year and we've formed together, got a roll on with each other," Johnstone continued.
"We've added new people like Justin Horo, Ryan Hampshire and Pauli Pauli, they've slotted in perfectly, they're real big guys who are doing a lot of damage.
"It's a special team and we're looking forward to doing something good this year."