Luke Gale: Castleford Tigers win against Widnes Vikings lifted 'cloud' of gloom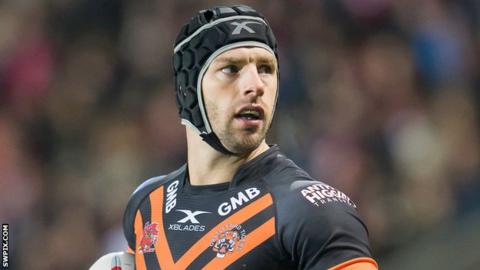 Castleford Tigers' first victory of the Super League season against Widnes has lifted a "cloud" of gloom around the club, says half-back Luke Gale.
The Tigers, who lost to Leeds in 2017's Grand Final after finishing top of the regular season table, were beaten 46-6 in their season opener at St Helens.
Sunday's 13-12 win against the Vikings came courtesy of a Gale drop-goal.
"We're not firing on all cylinders at the minute, but a win is a win," the 29-year-old told BBC Radio Leeds.
"We've got a bit of a hangover from last year at the minute, we look a bit edgy. The crowd felt tense and you can feel what they're thinking on the pitch.
"It was a tough one. It was a gritty performance and the ball is rolling now. If you go zero from two you're in a bit of a bad place. It was massive just to get that cloud off us, we can move on and build."
Gale enjoyed a brilliant 2017 season, winning the Man of Steel award for the Super League's best performer and helping England reach the World Cup final.
Sunday's game was played on a heavy surface after persistent rainfall, conditions which limited the flamboyant, spectacular style which Castleford made their trademark last term.
"Everyone is expecting our game to look a certain way and we're hamstrung a bit by last season," head coach Daryl Powell said.
"There was a lesson for us from the Grand Final and that is you can't always play exactly the way you think you should play - depending on conditions and other factors.
"You've got to play what is suited at the time, and we did some smart things.
"There's a little bit of nervousness around the club, spectators getting nervous, the players too, but the boys want to win and they're desperate to do well for themselves and the club."