Wayne Bennett: Australian to remain as England head coach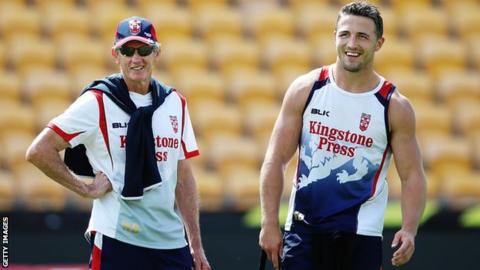 Wayne Bennett has been reappointed as England's head coach on a two-year deal - but with no guarantee he will lead the side in the 2021 World Cup.
The 68-year-old Australian took over from Steve McNamara two years ago and led England during their disappointing 2016 Four Nations tournament.
But last year he guided England to the World Cup final, where they lost 6-0 to hosts and favourites Australia.
"I firmly believe we can achieve something special together," he said.
"It was disappointing not to be lifting the World Cup, but I mentioned about this squad being on a journey.
"It's a pleasure to coach this squad because everyone wants to do their best for one another and do their job properly.
"The last couple of years have been encouraging and I have seen this group grow in confidence and belief."
Bennett will be in charge for an expected mid-season Test against New Zealand in Denver, Colorado in June of this year, with that fixture set to be confirmed by promoter Jason Moore in the next few days.
England will then host a three-Test series against the Kiwis in the autumn, with matches at the KCOM Stadium in Hull, Liverpool's Anfield and Elland Road in Leeds on three successive weekends from October 27.
Bennett, who will continue to coach Brisbane in the NRL, will also oversee Great Britain's tour down under at the end of the 2019 season.
The legendary coach's role in steering England to within a whisker of winning the World Cup for the first time in 35 years at the end of 2017 played a key part in him being offered a new deal.
"It was always the case of the best man for the job," said the RFL's director of rugby Kevin Sinfield, who carried out a review of England's 2017 campaign.
"If we win every Test match now with England and Great Britain in the next two years, he's in pole position to carry on, if he wants to.
"But if we don't, at the end of that two-year period we'll have a thorough review and we'll make the right call so the best person gets to lead us into the World Cup.
"To have a full four-year coaching appointment would be fantastic. But I think it's important that it's the right person for the job and the person we appoint now may not be the right person in two years' time."
Sinfield said his review demonstrated overwhelming support from England's players for the iconic figure, who is rated one of the best coaches in the sport's history having won seven NRL Grand Finals.
"The players have absolutely loved working with Wayne," said former Leeds and England half-back Sinfield in this week's 5 live Rugby League podcast.
"I've worked under a number of international coaches and I've been able to compare and contrast and look at the differences. Wayne is hungry and he really wants to succeed for England and he cares so much for the players."
'I'd like to think Powell will be England coach'
Sinfield has hinted at a freshening up of England's backroom staff, which in the 2017 World Cup included Widnes coach Denis Betts as well as three other former internationals in Paul Wellens, Paul Sculthorpe and Paul Anderson.
But it will be Bennett's choice as to who assists him, and that decision will be made before the mid-season Denver Test.
There had been speculation Castleford coach Daryl Powell would be appointed as an assistant for the next two years with a view to him taking over the head coaching role in time for a series against the visiting Australians in 2020 and the next World Cup - to be staged in the UK - in 2021.
"I saw the Daryl Powell speculation. I'm a huge admirer of Daryl and certainly a huge admirer of how Castleford played last year," says Sinfield.
"I'd like to think in the future Daryl will become an England coach. I'd love to think he's going to become involved in the set-up down the track.
"But whether that happens while I'm still here, I'm not sure."
Anderson, the former Huddersfield coach, has been appointed to lead the reformed England Knights, who are expected to play in a Six Nations tournament at the end of the season.
Analysis
BBC rugby league correspondent Dave Woods
The length of the deal Wayne Bennett has agreed suits him as much as it does the RFL.
At 68 years of age, it's likely he'll want to assess his own powers in two years' time and whether he feels fit and able then to lead England through to the next World Cup. He will be 71 when it kicks off.
Who he appoints as assistant for the next two years will be fascinating and will probably point to his likely successor.
Denis Betts is the incumbent and, having served his apprenticeship in the last two years, will probably feel he's the natural heir.
But Bennett will probably want a fresh face in the camp to prevent any staleness. The example of Sir Alex Ferguson, who regularly changed his coaching staff during his long stay at Manchester United, has not been lost on him.
Daryl Powell would be a popular choice. But would he and Bennett work well together given their apparent different philosophies as coaches? Bennett's style is based on completions and error-free football, while Powell's Castleford, although structured, are much more adventurous.
One criticism of England in the last World Cup, though, was their inability to break down the Australia defence. That is something Sinfield's review has highlighted and that could open the door for Powell.
But there are also plenty of other English coaches available, with Sinfield name checking Shaun Wane, Brian McDermott, Lee Radford, Chris Chester and Ian Watson on the 5 Live podcast.