Eddie Hearn: Can rugby league follow darts and boxing to achieve potential?

By Dave Woods
BBC rugby league correspondent
Last updated on .From the section Rugby League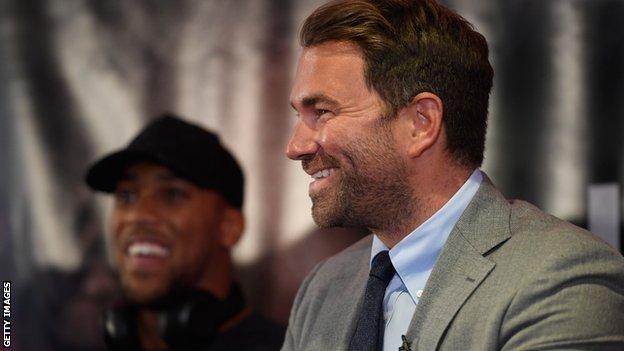 The names of Eddie and Barry Hearn have been on the lips of rugby league's chattering classes for some time.
It is not an illogical association. The game is in desperate need of a shot of media hype and marketing invention; the Hearns have been demonstrably successful in turning some sports, darts in particular, into much talked about phenomena.
But the selfies published on social media of Ralph Rimmer, acting chief executive of the Rugby Football League, and Eddie Hearn probably do not add up to a formal arrangement between the game and the promoter.
Do not expect a Matchroom takeover any time soon.
It is more likely that Rimmer, surfing a wave of popular opinion that something radically different is needed to market the game, has taken the chance of a coffee and a chat with a man who may have a few hints.
There may be other conversations between the two parties, there may not. But for certain rugby league does need its profile lifting from its current low point.
Desire for exposure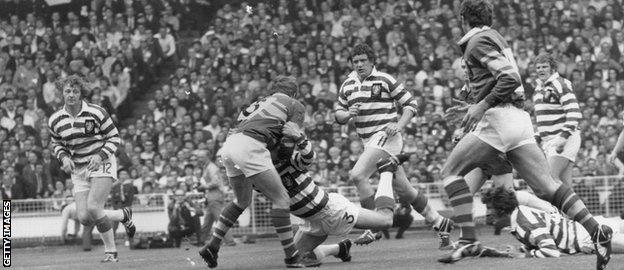 There's nothing new in rugby league's desperate desire for improved exposure.
Take this from the first edition of the league magazine Open Rugby, published in May 1976, written by its editor Harry Edgar.
"…off the field it has suffered from such an appalling lack of publicity. It's time we people who know and care about rugby league, its history and traditions, started doing more to put our game in its rightful position.
"It's a great injustice that our many outstanding players have not been given the widespread praise and recognition they deserve as British sportsmen."
Any of that could have been written in any one of the 42 years since it was first penned.
Amongst its devotees, rugby league is dubbed 'TGG' - The Greatest Game. And those who watch the sport on a weekly basis remain perplexed that it has not managed to grow much beyond its original roots.
It is fast, exciting and incredibly physical. Get to know the sport, and you recognise some breathtaking skills.
But the brutal beauty of the sport has failed to capture the wider imagination.
All the critical acclaim without public affection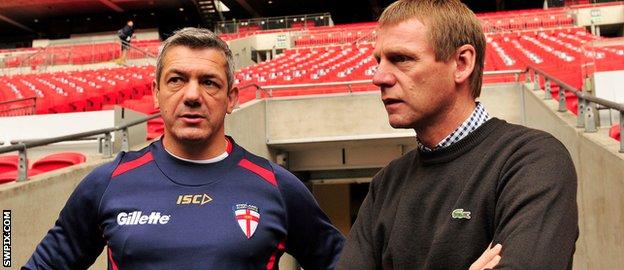 Stars from other sports - the Brownlee brothers, Wayne Rooney, Stuart Pearce, Bradley Wiggins, Jonny Bairstow and others - take their turn in social and traditional media to express their wonder at league's combatants.
But those testimonials have not produced a lift-off in interest.
There is an argument to say that, in some respects, rugby league is more successful now than at other points in its past. Crowds at many clubs are bigger than they were, say, back in the 1980s - a period people often point to as being a bit of a golden age for the game.
But ask the man or woman on the Clapham Omnibus today to name a rugby league player, and it is likely to be a 1980s star that they pick.
Today's crop of 'stars', who play to packed houses in Grand Finals and who took England to within an ankle tap of winning a World Cup in 2017, remain largely anonymous to all but the devotees.
The lack of profile is reflected in reduced pickings in the corporate sponsorship world and falling TV audiences, and that threatens the future financial well-being of the sport.
At the moment, behind the scenes in rugby league, there is frenzied political battle going on. Some of the bigger Super League clubs are wanting a greater say in running the game, some of the smaller clubs are feeling threatened by a potential putsch.
Uncertain times, and a key appointment
Within the Rugby Football League there is uncertainty. Chief executive Nigel Wood vacated his position at the end of January, so the biggest job in the game is up for grabs at a critical moment in the game's history.
The appointment of the next CEO will be pivotal to the future direction of the game.
So the meeting with the Hearns by the RFL may be mere window dressing, but it draws attention to the fundamental problem.
Rugby league is not getting enough eyeballs, as the marketeers might say. Can anyone solve a problem that goes back at least 42 years?