Brian Bevan: Remembering Warrington's unassuming record-breaking hero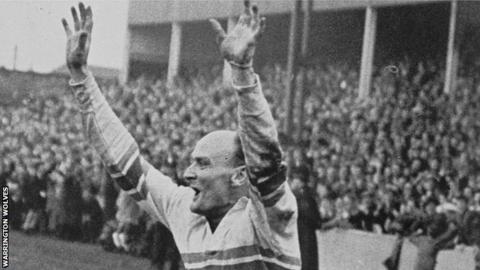 For a shy and unassuming Australian who arrived on British shores in 1946, Brian Bevan blazed quite a trail in rugby league.
Bevan broke records in his 16 years with the Wire, scoring an outrageous 796 tries during his time at the club.
The only player to be inducted into both the Australian and British rugby league halls of fame, Bevan is still fondly remembered almost 27 years after his death.
"He's not just one of the greatest rugby league players of the 20th century, he's one of the greatest sportsmen of the 20th century," rugby league journalist Gary Slater says of Bevan.
Even decades after his playing career ended, the Australian still holds the record for the most tries scored in British rugby league. He scored three or more tries in a single game on more than 100 occasions.
"To score 796 tries is unbelievable, no one else would ever do that. That is a record that can never be beaten," BBC commentator Ray French said.
"The crowd, whenever Warrington made a break, used to shout 'give it to Bev' and of course, everybody wanted to be like him. What he did I've never seen done before or since."
Despite all the esteem that was held for Bevan by the Warrington faithful, he remained a man of few words off the pitch.
George Thornton, chairman of Warrington's former players association, said: "He wasn't a great talker. He wasn't a very sociable man. I don't think he was miserable or anything like that, I think he was just a shy man."
'Virtually unrecognised'
Although Bevan scored a huge number of tries and helped Warrington to two Challenge Cups, three Rugby League Championships, six Lancashire League titles and one Lancashire Cup, he was and still is underappreciated by sports fans around the country.
Slater continued: "[Oscar-winning actor] Colin Welland said that if Brian had played cricket he would have got a knighthood, if he'd been a footballer, he would have won an MBE and if he were an actor he would have been in Hollywood.
"But because he was a rugby league player, he was virtually unrecognised."
Because of the era in which he played, there is relatively little video footage of his try-scoring talents in comparison to the coverage the sport receives in the modern era.
As French reflects: "The sad thing is, there wasn't the filming or television matches that we get now. He was quite something."
Reporting by BBC Radio Manchester's School Reporter Rhianna.