Shaun Wane: Wigan head coach 'open to anything' after Warriors exit
Last updated on .From the section Rugby League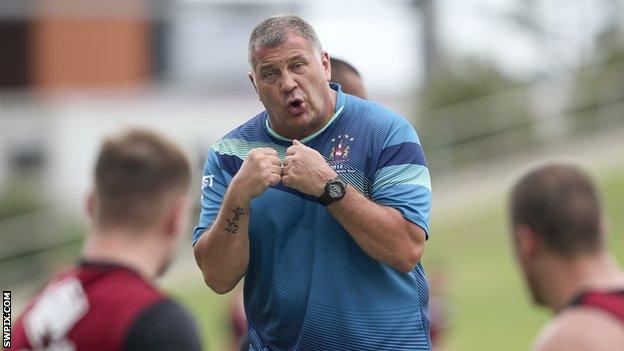 Departing Wigan Warriors head coach Shaun Wane says he is "open to anything" when he leaves the Super League club at the end of the season.
Wane, 53, has been linked with a role at Catalans Dragons and a switch of codes to rugby union, but has said he has not had any offers so far.
"I'm a professional coach and I feel I've got a lot to offer," Wane told BBC Radio Manchester.
"I've had a fantastic time, my mind's clear and I'd be open to anything."
Wane is Wigan's longest-serving coach in the Super League era, having taken charge of the Warriors at the start of the 2012 season, and has won five trophies during his time at the helm.
"It's been tough, I've been here a long time and had some fantastic times here," said Wane, whose long association with Wigan began with his debut as a player in 1982.
"I walked out at Old Trafford (for four successive Super League Grand Finals, including wins in 2013 and 2016) and won a World Club Challenge in our own stadium (in 2017).
"I've had a fantastic 30 years but everything comes to an end and that's the way it is."
Wane added that his departure had nothing to do with the signing of ex-Castleford and Leeds full-back Zak Hardaker, who will join Wigan in November once he has completed a 14-month drugs ban.
"Whoever would say that doesn't know me," Wane said when asked if Hardaker's arrival had a bearing on his decision to leave. "I wouldn't have a player forced on me.
"I'm the most stubborn man in the world. (Owner and chairman) Ian Lenagan and (executive director) Kris Radlinski have always been loyal to me and I pick my own players. If I want a player, they say 'great' and they go and get them for me.
"When a player makes a mistake like Zak did, we have to support them as a sport and that's what we've done with Zak.
"He's a fantastic player and I'd love to have coached him. He's a player I really admire, but sadly it's not the way it's going to be. To say that's the reason is way off the mark."