Rugby League World Cup 2021: Grassroots rugby league to get £20m lift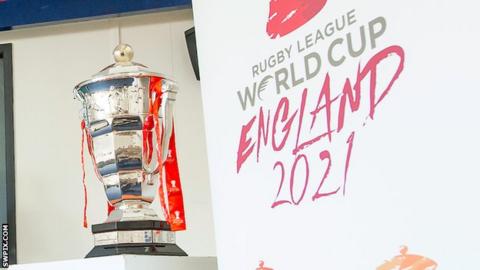 Grassroots rugby league in England will receive £20m as part of the investment in the 2021 Rugby League World Cup.
A pot of £25m from the UK government, which includes £15m towards the staging of the tournament, will steer money towards community projects.
The competition's chief executive Jon Dutton says the government's £10m for the grassroots pot will be 'leveraged' to increase the overall figure to £20m.
"All of that will be invested into community rugby league," he said.
He told BBC Radio 5 live's rugby league podcast: "It will not be spent on anything else, not on salaries or administration. It will go into community rugby league - we want it to go far and wide and make a real difference."
England and Wales co-staged the 2013 World Cup, while Australia, New Zealand and Papua New Guinea jointly hosted the 2017 tournament.
Small gains and big change
Dutton says the detail of how the funds will be spent is to be split into two categories.
Small grants of up to £15,000 - To fund kit and equipment for clubs wanting to set up new teams including youth sides, girls teams and wheelchair participants.
Major projects upwards of £15,000 - Major infrastructural builds such as new pitches, new clubhouses or floodlighting.
Clubs can apply with their project ideas to request funding.
"It can only be spent on facilities and on capital," Dutton continued. "We'll split it into two, We'll use an element for small grants, quick and easy, small chunks.
"Then the rest will go on big transformational capital projects, we hope to deliver about 50 big projects into community rugby league.
"That might be an artificial pitch, a new clubhouse. All of it will be spent before the World Cup arrives in 2021."
World Cup growing, with a nod to heartlands
The 2021 tournament will have more men's, women's and wheelchair teams competing than ever before.
Initially, 40 towns and cities have expressed interest in hosting matches, including Middlesbrough in Teesside, although organisers are keen for the 2021 tournament to have more of a 'heartland' feel with certain criteria attached.
London will stage games, though no final location selected
More emphasis on games in cities, rather than towns
Not just host venues, but also training venues required
Minimum capacity threshold of 12,000 for men's tournament
Men's tournament up to 16 teams - eight 2017 quarter-finalists plus eight other qualifiers
Eight women's and wheelchair team nations
65 games across all formats
750,000 is the combined attendance target
Dutton continued: "Our legacy programme will engage with the widest possible audience but this is unashamedly targeted just at the sport of rugby league.
"For us to leave a lasting legacy in 2021, people will challenge us afterwards - 'what have you done' - and [with this project] we can point to and have tangible evidence."