Super League: Restructure needs RFL approval says chief Ralph Rimmer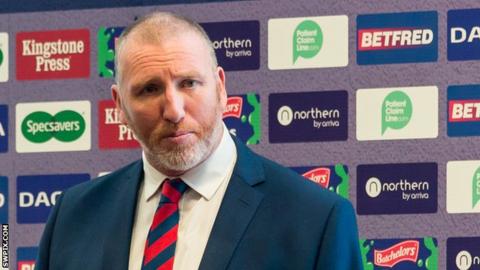 A Super League restructure cannot go ahead without Rugby Football League approval, says new chief executive Ralph Rimmer.
Super League CEO Robert Elstone said in June that the league will scrap the Super 8s format next season and switch to a 'one-up, one-down' system.
"I'm talking to Robert on a regular basis," Rimmer said.
"The structure can't change and neither can levels of distribution until 2021, unless it's with support from the RFL."
Since 2015, promotion and relegation has been decided by fusing the Super League's bottom four with the Championship top four after 23 regular season games.
After the eight teams play each other once, the top three automatically seal Super League status for the following season while the winners of a fourth versus fifth play-off also go up.
The proposal to scrap the current format came in for criticism from Leeds chief executive Gary Hetherington, who called them a "power grab", while Rimmer said the idea of a restructure was raised at the RFL council's annual meeting on Wednesday.
"I get the fact there are frustrations it's not sorted as of yet. If we have to wait a couple of weeks longer than expected before it's resolved then, in the long run, that will be far better," Rimmer said.
"We're in a critical period in rugby league history because of the changes in the landscape and we have to make sure we do the right things that take us to 2021 and beyond."