Mark Kheirallah: Toulouse Olympique form down to fun factor
Last updated on .From the section Rugby League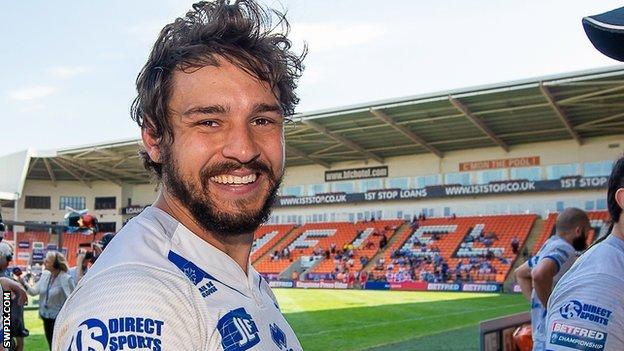 If it is entertainment you are looking for from your rugby league, then you cannot go far wrong by watching Toulouse.
The club from the south of France have been a joy in 2018, scoring 900 regular-season points and adding to that with 92 in just three games in the Qualifiers.
They have two wins from the three so far including victory against Super League side Widnes, and are well in the mix for a promotion spot.
So, what is the secret?
"It's about having a bit of fun," Toulouse full-back Mark Kheirallah told BBC Sport.
"We've been loving it, it's a new challenge, we get to play at great stadiums like Leeds, the whole weekend was an incredible experience.
"We get to test ourselves against really good teams and good defence. It's a good challenge to see where I'm at and we learn so much from playing those Super League teams."
Building blocks
After returning to the English leagues in 2016 after a four-year absence, Toulouse won the League One title in their first campaign.
In the following season, they had ambitions of reaching the top four and a place in Super League but those were checked as they finished fifth.
This season, however, a top-four berth in the Championship was secured.
"Considering it's only our third year in the English competition, to see how far we've come is a massive achievement," Kheirallah added.
"Last year we set our expectations a bit too high and we got a bit ahead of ourselves, you come crashing down pretty quickly, so this year we just aimed to make the top four and then see what happens.
"It's a step forward, and it's a better set-up for us, because when we don't have pressure, we play better."
Learning curve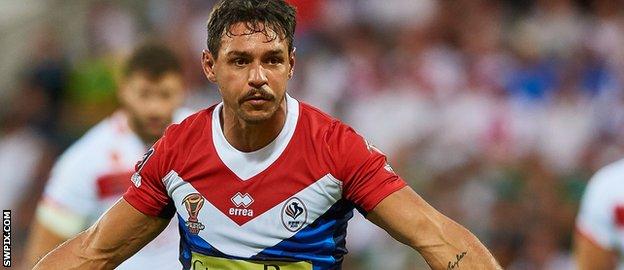 Although Kheirallah has National Rugby League experience from his time at Sydney Roosters, the Qualifiers are the first taste of top-tier opposition for some members of the Toulouse squad.
Championship rugby league has part-time teams among the opposition, but Super League is fully professional and that extra level of preparation proves crucial.
"It showed against Leeds, the big difference playing Super League teams, because of the experience those teams have they don't give you much," the France international continued.
"You can drop off for a few minutes in the Championship, but the Super League sides are at you 100% for the whole 80 minutes, it never stops.
"We had to look at a few things around our wrestle, trying to control the play-the-ball and offloads, it hurt us in the Leeds game.
"But the strength and conditioning guy Adam Innes takes care of us, we based our game around trying to be a bit faster and fitter than other teams. We play expansive rugby league so you have to be fit because errors come and you've got to protect it."
New cultures and history
To create a happy working environment, players need to be happy in their own surroundings.
Sydney-born Kheirallah first moved to Toulouse in 2012 and despite spells back in his native country, is well settled in the Haute-Garonne.
"I love it, it's an incredible place to be," Kheirallah said. "It's a city with almost everything. It's two and a half hours to the beach, an hour and a half to the mountains, I play golf and there are loads of golf courses around.
"My apartment has a pool and tennis court in the complex so that keeps us busy, plus you can drive for 20 or 30 minutes and be in a town that is a couple of hundred years old with history.
"From being an Australian, it's a completely different perspective."