Regan Grace and Morgan Knowles absent from Wales' Euro squad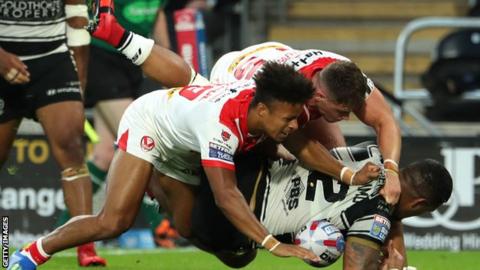 Wales will be without winger Regan Grace and loose-forward Morgan Knowles for the European Championship and 2021 Rugby League World Cup qualifiers.
The St Helens pair are unavailable for selection and will rest instead after playing two years back-to-back.
Elliot Kear captains the Dragons, who take on France, Scotland and Ireland.
"There's a lot at stake in this year's internationals and we're all looking forward to the challenge," said head coach John Kear.
"We have a good mix of youth and experience in our squad and it's really encouraging to see lots of the up-and-coming talent progressing through to the senior team."
The European Championship winner and runner-up will qualify automatically for the World Cup.
Kear's squad contains 12 players who represented Wales at the 2017 World Cup squad.
Widnes Vikings pair Gil Dudson and Lloyd White, who were both missing for the World Cup, will be in the frame for a return, as will Halifax's Dan Fleming and West Wales Raiders' Morgan Evans.
Josh Ralph, who spent the 2018 season with Queensland Cup side Easts Tigers and played a key part in them making it to the Grand Final, will fly over from Australia.
There are nine uncapped players, including West Brisbane Panthers' James Olds, the brother of international half-back Ollie.
Twins Connor and Curtis Davies, Sion Jones and Elliot Jenkins, who have all represented Wales at various levels, will also be pushing for appearances in the senior side.
Coventry Bears' Chris Vitalini, Rhys Gant, James Mason and Liam Rice-Wilson are the other players yet to earn a cap.
"Seventeen of the players in this squad are Welsh-born and that's something we're very proud of," Kear added.
"We have three tough matches coming up against France, Scotland and Ireland, but we want to put in solid performances in each of them and give ourselves the best chance possible of qualifying for the World Cup."
Wales begin against France in Carcassone on 27 October, face Scotland in Galashiels on 2 November and then host Ireland at Wrexham's Racecourse Stadium on 11 November.
The Dragons are the defending European champions, having won the 2015 European Cup.
Wales squad: Dalton Grant (Bradford Bulls), Rhys Gant, James Mason, Liam Rice-Wilson, Chris Vitalini (all Coventry Bears), Josh Ralph (Easts Tigers), Chester Butler, Connor Davies, Curtis Davies, Dan Fleming, Sion Jones (all Halifax), Ben Evans, Elliot Kear, Rhys Williams (all London Broncos), Elliot Jenkins (Rochdale Hornets), Gavin Bennion (Salford Red Devils), Ben Morris (St Helens), Rhodri Lloyd (Swinton Lions), Jake Emmitt (Toronto Wolfpack), Courtney Davies (unattached), James Olds (West Brisbane Panthers), Morgan Evans, Steve Parry (both West Wales Raiders), Gil Dudson, Lloyd White (both Widnes Vikings).