James Roby: England hooker hopes for GB Lions return in 2019 after shoulder surgery
Last updated on .From the section Rugby League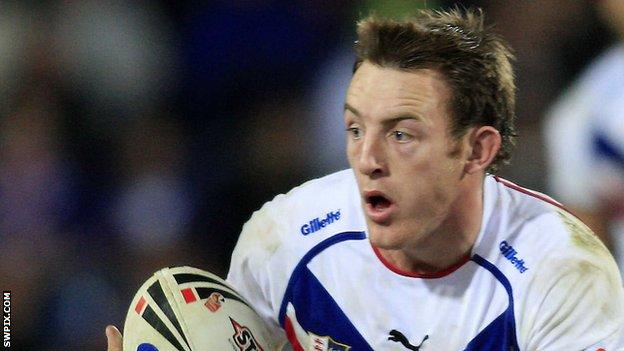 England hooker James Roby is targeting a return to the international scene in 2019, having missed the 2018 autumn series with New Zealand to undergo surgery on a shoulder injury.
The St Helens skipper, 32, was involved in the mid-season Test win against the Kiwis, and would likely have been part of Wayne Bennett's plans.
His place in the squad went to Warrington's Daryl Clark.
"I knew it needed sorting sooner or later," Roby said of the problem.
"I understand I'm coming to the back end [of my career] and I might not get many more chances so it was a big decision, but I felt I had to look after myself for the long term if I'm to play for two, three maybe four more years."
While the Saints veteran misses the 2018 series, he is determined to be fit again for the return of the Great Britain brand in 2019.
The Lions were disbanded in 2007, after a New Zealand home whitewash, in a bid to develop the home nations but will return to the international calendar from next year.
"I miss being around the group and I'll be doing everything I can next year to get on that Great Britain tour," he said.
"My first international appearance was on a Great Britain tour in 2006 and we've had all that time with England, so it would be nice when it reverts back to Great Britain to go on another tour."
Roby, who was nominated for the 2018 Man of Steel, received the Rugby League Writers and Broadcasters Association Player of the Year award for 2018.