England v New Zealand: 'Dazzling' try scorer Gildart following in dad's footsteps

By Dave Woods
BBC rugby league correspondent
Last updated on .From the section Rugby League9
England v New Zealand, second Test
Venue:
Anfield
Date:
Sunday, 4 November.
Kick-off:
14:30 GMT
Coverage:
Live on BBC Two, the BBC Sport website and app from 14:00 GMT, plus commentary on BBC Radio 5 live sports extra and text updates online
Oliver Gildart has become English rugby league's newest star but he's no overnight sensation. His story has been two generations in the making.
The classy centre's dazzling late try against New Zealand in last weekend's first Test has become a social media hit and has made him the focus of attention for a wider sporting audience.
But rugby league stardom is commonplace in the Gildart household. Long before Oliver picked up a ball and ran, his dad Ian was making a name for himself as part of the all-conquering Wigan side of the 80s and 90s.
Ian played in the 1990 Challenge Cup victory over Warrington at Wembley, and was part of the Wigan team that won the World Club Challenge against Penrith in 1991 - coincidentally played at Anfield, where his son will step out for England in Sunday's second Test.
"It was fantastic. Coming as a 16-year-old joining the likes of Andy Gregory, Ellery Hanley, Andy Goodway - you are just surrounded by pure talent. It was just a privilege to play in that side and be part of that culture and ethos," says Ian.
"But whatever I did in my career is nothing now. It's all about Oliver. I'm so proud and it's brilliant to see what he's doing."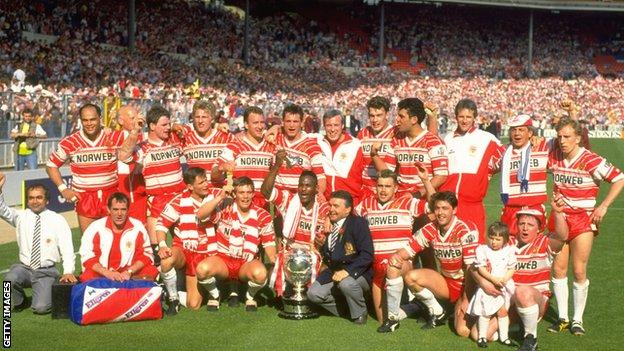 Gildart junior has had an outstanding season with Wigan. The 22-year-old helped his club side win the Grand Final, and his 13 tries included a typically eye-catching effort against St Helens that left full-back Ben Barba grabbing at thin air.
But his England call-up still came as surprise - he was drafted in late after Sam Burgess pulled out with injury, and thought he'd be down the pecking order for selection.
"I got into camp, just expecting to train hard, hoping to get a game," he says. "But Wayne [Bennett, England coach] pulled me in early in the week and said I was going to make my debut.
"You've just got to take these opportunities. I was a bit scared of him before, he's a bit daunting. But when I went in, he came over and shook me by the hand. He said he'd watched my last month of Super League and was impressed with me. That filled me with a lot of confidence."
The rest is now part of rugby league history. His weaving, high-speed run that left New Zealand defenders in his wake lifted the entire stadium to its feet, including his dad. The fact that it was on his debut made it extra special.
"I didn't cry much in my career, but I must admit I did on Saturday when he walked out in an England shirt," says Ian.
"It was fantastic when he scored. The emotions were just running wild. His mum and me were hugging and jumping up and down."
But despite his pedigree, it wasn't always a given that Oliver would be a rugby league star.
"From the age of five he was all about football," says Ian. "He was at Liverpool for a few years and then he went to Everton. He didn't play rugby league until he was nine," says his dad.
"I don't like talking about the Liverpool story," laughs Oliver. "I'm actually a Man Utd fan."
But as a nine-year-old he followed his brother Dominic to a local amateur rugby league club to join him at a training session and was instantly smitten with the 13-a-side code.
"That first game, he played on an old school pitch, a craggy old field," says Ian. "He scooted the ball in, smashed his nose and there was blood everywhere. I turned to his mum and said 'he'll never play rugby league again'.
"But he came off the field and said 'Dad, I absolutely loved that'. He played the week after that and loved it again."
He became an outstanding talent in his age group and was signed by his home-town club as a teenager.
It's clear his dad has been a huge influence on his career, but Oliver has no memories of watching him in the flesh.
"I was only a little baby when he was playing, but I've footage of him at Wembley and playing on snowy pitches at Castleford," he says.
"My dad coached me all through my amateur career, he had a few people helping him as well, but he looked after me."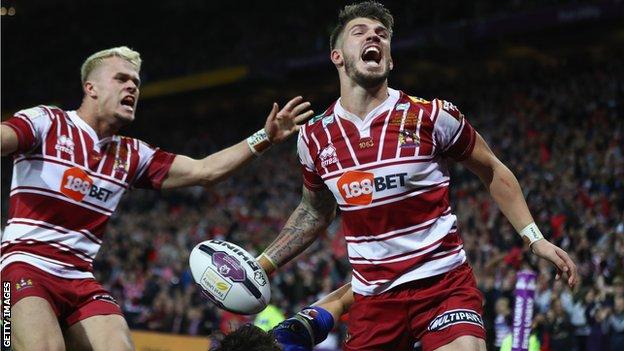 Now both have a claim to fame when they walk through the streets of Wigan. So when they're accosted by strangers, who gets the bigger acclaim?
"When I'm having a few beers on a night out, I get a lot of the older generation coming up to me telling me that my dad's better than me," says Oliver.
Ian's having none of that.
"I think it's all him really," he says. "I get 'Oliver's better than you were, he's faster than you were and he can score tries you'd never score'.
"That skill level he's got is fantastic, that vision and speed off the mark. He's brilliant to watch."
Now Oliver is ready to take the next step in his fledgling England career, in Sunday's second Test at Anfield. And he can't wait.
"I'll still be nervous," he admits. "I feel more confident now I've played and seen what they have to offer.
"But I get nervous before every game, you don't want to let people down. New Zealand are going to be a lot better this week but I think we can go to that next level as well."
Dad Ian will be in the stands, proud of what he's watching.
"Every week he makes it special. I've seen him score some great tries and captain his country at 16, and now playing for England and scoring that iconic try, it's just… what's next?"
Oliver Gildart on his standout try against New Zealand:
"As Batty [John Bateman] was taking that carry I know he has that off-load on him, so I kind of just stayed alert.
"He's popped the ball up and straight away I've got a bit of space in front of me. You don't get many chances like that at international level.
"I put my head down and sprinted as fast as I could, then looked up and saw the full-back coming.
"It's a bit instinctive, but when you have a full-back coming what goes through my head is to try and hold him up, slow him down, and either go on the outside or inside.
"It's my job to finish things off in space, so it is something I work on week in and week out in training."
And did his dad, Ian, think he was going to score, the moment he got the ball?
"Do you know what, I did, because he's done it so often in his career so far at different levels."