Sam Burgess: England international forced to retire with shoulder injury
Last updated on .From the section Rugby League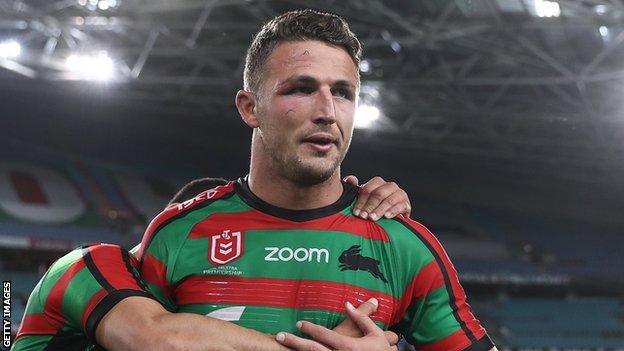 Former England captain Sam Burgess has been forced to retire from playing because of a chronic shoulder injury.
Burgess, 30, is one of the sport's biggest names and has played for South Sydney Rabbitohs in Australia's National Rugby League since 2010.
He previously played for Bradford Bulls and played 23 matches for England, and two for Great Britain.
Burgess also briefly switched codes to rugby union and played for England at the 2015 World Cup.
"This decision was one of the hardest I've had to make in my life, however it was out of my hands," Burgess said.
"I am no longer able to be myself on the training field and consequently the playing field."
Burgess missed out on the current Great Britain tour of New Zealand and Papua New Guinea because of the injury and the Rabbitohs said his chronic conditions "only became apparent earlier this year after routine surgery".
They described him as "one of the best, if not the best" English player to play rugby league in Australia.
He won the NRL Grand Final with the Rabbitohs in 2014, winning the Clive Churchill Medal for man of the match, despite suffering a broken cheekbone in the game's opening tackle.
He switched codes to join rugby union side Bath in 2014 and was fast-tracked into the England team, earning five caps, but returned to rugby league after just a year.
He said his heart "wasn't in" rugby union and he was also stung by criticism from ex-players, having been part of the England squad that was eliminated in the group stage of the 2015 World Cup.
England head coach Wayne Bennett, who is also currently coach of the Great Britain Lions and the Rabbitohs, said: "He was one of the drawcards for me in coming to coach at South Sydney.
"His leadership and capabilities on the field match the man he is off it.
"I thought it was a real blow to the game when he left to play rugby union but I'm glad he saw the light and came back.
"I'm glad to have played a small role in his career and I feel blessed that he has been part of mine. I know he has made the right decision."
'A huge loss'
Great Britain captain and England team-mate James Graham: "From a personal point of view, as a team-mate and a friend, I'm disappointed for him and the circumstances. It's a consequence of the way he goes about his business and plays the game.
"I genuinely hope he's at peace with this decision.
"For Great Britain and England he's a huge loss, and for our competition in the NRL. The game's going to be poorer for him not being there. He's one of our competition's biggest stars. He's one of Great Britain and England's greatest."
Team-mate and younger brother Tom Burgess: "I don't think Sam wants us to feel sad - he wants us to celebrate what he's done and the good times we've had together and that's what I'll be doing.
"He's made the decision for himself and his body. I'm proud of him for having the strength and will to do that."