Richard Parks ready for his toughest challenge
By Richard Parks
Former Wales and Dragons forward
Last updated on .From the section Rugby Union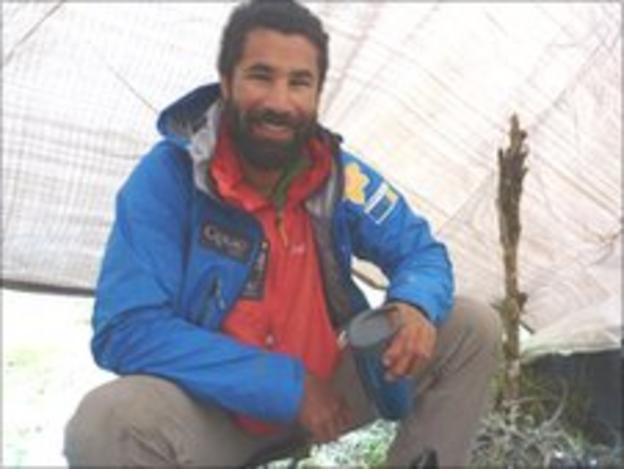 In his latest BBC column, Richard talks about preparing for the toughest leg of his global tour to reach seven summits and three poles in seven months.
He has already passed the half-way point after successfully climbing Carstensz Pyramid, the highest mountain in Australasia, with four more legs to go.
I haven't long returned from Carstensz Pyramid. To be frank, it certainly was the toughest part of the challenge so far.
It's starting to take its toll on me. I'm feeling really good but my body is starting to show signs of fatigue.
I've come back home to Newport but have been a little bit run down, so while it's been great to see my family but I haven't had a lot of chance to see them as I've spent much of the last couple of days in bed.
I always knew that the nature of what we are doing was always going to be tough and I would have loved more time to recover.
I'm over half way, but I don't think of it that way. I've got the three hardest legs in front of me. I can't think of it like that.
Mentally I'm feeling confident but physically, I'm starting to show signs of fatigue. My biggest challenge is trying to keep the weight on and eating.
There are times when I have felt mentally tired and it's very much a mental challenge. The first battle mentally is to stay strong, positive and fresh which I'm doing a good job on.
Physically, I need to rest and get nutrients in me.
We're certainly moving into the back end of the challenge, but I've got the three toughest legs back-to-back - the North Pole, Mount Everest and Denali in Alaska.
I feel prepared, I'm picking up with (double Olympic gold medallist) Steve Williams, the rower, for the next challenge. It will be a real boost to be back together after training with him.
The North Pole is one of the most hostile environments on the planet. The sea ice is made up of a fluid jigsaw of open "leads" of water and floes of ice that can be up to 1,000 tonnes in weight.
Steve and I will have to battle pressure ridges caused by colliding ice floes, soft porridge ice and even open leads of arctic water.
As daunting as it sounds, we are both ready having spent time preparing on the sea ice of Greenland for this very environment.
Steve and I will be working together as a team to ensure we successfully complete this leg. I'm focussed and ready.
It's cool that Prince Harry (who is trekking with a team of wounded military servicemen) will be on the ice around the same time as myself and Steve.
I wish him and his team all the very best with their expedition.