Kellock accepts Robinson decision to rest him at club
Last updated on .From the section Rugby Union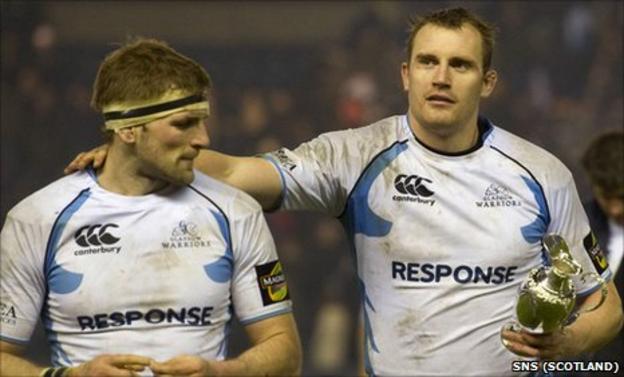 Glasgow captain Alastair Kellock accepts the decision by Scotland coach Andy Robinson to withdraw him and four others from club rugby for the remainder of the season.
Kellock and Warriors team-mates Richie Gray and John Barclay, plus Edinburgh's Allan Jacobsen and Ross Ford, are to be rested for the World Cup in September.
"It's tough on the club side but it's in our best interests," said the lock.
"We'll be doing as much rugby as we can without actually taking to the park."
Kellock skippered the Scots in the recent Six Nations campaign but has struggled with injury this season.
He partnered Gray in the second row for Scotland behind prop Jacobsen and hooker Ford with Barclay usually deployed at open-side flanker.
Both of the Scottish club sides are currently in the Magners League's bottom four and over 20 points behind the end of season play-off places with four games each to play.
Warriors coach Sean Lineen and Edinburgh counterpart Nick Scrivener are said to be disappointed but understanding of the situation.
The quintet's absence will extend into next season as the World Cup starts in the same month as Edinburgh and Glasgow's Magners League campaigns are likely to begin.
On Wednesday Robinson described the decision about the players as one that had "not been taken lightly".
He said: "It's a reflection on the season and the previous seasons they've had.
"Richie Gray has doubled his game time this year and he has performed at a higher level of match as well and performed outstandingly well.
"This is for his development for the World Cup, but also for future matches - it's looking ahead to two, three years time as well.
"(Ford and Jacobsen) have had high game time in the previous three years. They've played a lot of rugby and they've had high game time this year.
"We feel it's in the best interests for their development and for the Rugby World Cup that they are made unavailable for Edinburgh now."
Kellock, who will have an MRI scan on his injured hand on Thursday, told BBC Scotland: "I've got to make it a good thing.
"It's an opportunity to make sure my hand is right and to make sure that I'm in good condition when I come in to the camp.
"It's slightly different for Richie and Allan and Ross because they are being rested due to the volume of rugby they have played, but John and I are looking to get ourselves into the best condition we can."
"It's one of the good things about playing in Scotland is that, medically, we are extremely well looked after, from the number of games we play to all the treatment we need."
Scottish Rugby, who fund the country's two professional teams, said that Jacobsen is struggling with "niggling injuries in his shoulder and back which would respond best to a short period of rest" while Ford is "fatigued".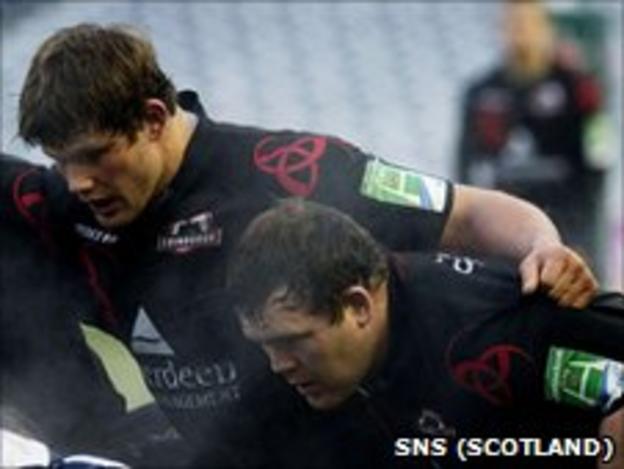 Kellock believes their being rested allows others the chance to shine at Firhill and Murrayfield in the Magners League.
He said: "Andy has the ability to say that he feels we could do with not playing and the five of us making the best of it.
"Another way to look at it is the opportunity it gives some of the guys who have been playing during the Six Nations to carry on and make it hard for us to get back in when we do get back.
"I know I've got a couple of knocks that need a bit of time. We'll see what happens with my hand. I'll have a rehab programme put in place based on the results of the MRI."
Meanwhile, Robinson believes the five players and their clubs will benefit in the long-term from this break.
"It's not just solely around the World Cup," added the former England coach.
"We would be looking at this decision even if they were competing for something; we would have had to have this discussion.
"They (Scrivener and Lineen) were disappointed and naturally disappointed, because they want their players to play for the club, but they understood.
"Post-World Cup, I believe you're going to get a better player coming back ready to play for the pro teams."