Gavin Henson named at centre for Toulon
Last updated on .From the section Rugby Union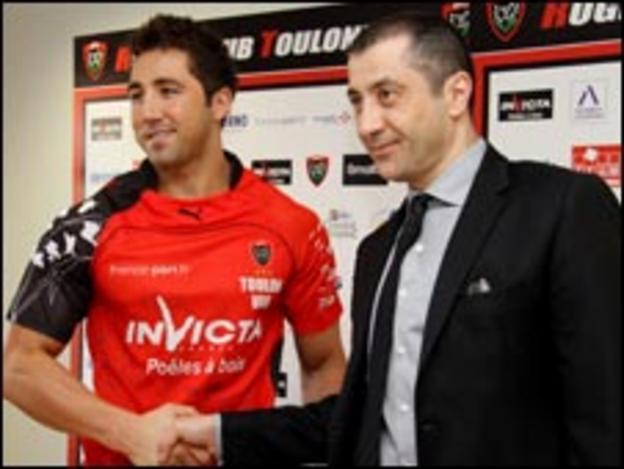 Gavin Henson is to make his debut for Toulon at inside centre at home to Stade Francais in the French Top 14 on Saturday.
He has not played since signing from Saracens in early February and says he is "on trial" at the French club.
"I'm starting at 12 this weekend against Stade Francais," the Wales star confirmed to BBC Wales' Scrum V.
"So happy to be back playing now. I think it's been probably about two years since I started at 12."
Added Henson: "I'm a little bit nervous, going to be excited as well. Can't wait for the game."
The former Osprey moved to Toulon after just four appearances for the London club.
The former Strictly Come Dancing contestant signed a five-month deal with Toulon after Saracens agreed to let him go.
But with only four games of the season left, if Toulon do not reach the Top 14 play-offs, 29-year-old Henson, who has won 31 caps for Wales, knows he has to prove himself.
"I'm on trial a little bit, but I'm not going to put pressure on myself.
"I signed for them, but I had to play five or six games to get a two-year contract in place.
"But that is out of the window because I didn't realise my calf injury was as bad as it was.
"I'm hoping once I play they like what they see and hopefully the contract will be in place.
"My aim is to play four games and if we do get in the play-offs there will be four games again.
"I absolutely love it down here. I'm so lucky."
Ultimately, Henson has an ambition to make Wales' World Cup squad which is named at the end of August.
But he knows he has to string some games together for Toulon first.
"I'm aware there are summer internationals with Wales and a World Cup round the corner.
"If I manage to start the four games for Toulon I'd like to think that Wales would at least try me out in one of those [summer] games.
"I still think I have got a chance for the World Cup."
Henson has been out of action since January after injurying his calf playing for Saracens against Leinster.
"It's been a bit of a nightmare getting that calf muscle with Saracens, but maybe it was a bit of blessing because this opportunity came up," he admitted.
"I only started about 10 days ago so I have had about two months without running which has not been ideal.
"But to be fair I've got some confidence from training. I'm looking pretty sharp and the skills are all there. I've got a lot of quality players around me and I'm back at my favourite position at 12.
"So I'm really excited about playing again."