'Play-in-Wales' policy 'is over' - Gareth Llewellyn
Last updated on .From the section Rugby Union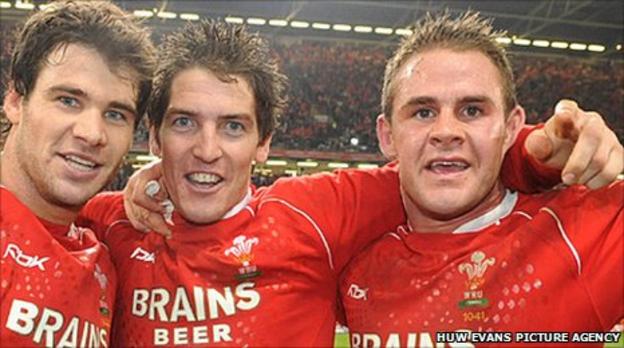 Ex-Wales captain Gareth Llewellyn believes coach Warren Gatland's policy of favouring home-based players is over.
James Hook, Lee Byrne, Gavin Henson and Craig Mitchell are playing elsewhere or will do so next season.
Mike Phillips may follow them and Llewellyn told Scrum V: "It's got to a tipping point where there are more playing outside Wales than inside."
Wales assistant coach Robert Howley hinted Wales' policy is softening.
Utitlity back Hook moves from the Ospreys to Perpignan after the World Cup in the autumn, full-back Byrne is joining Clermont Auvergne and Mitchell Exeter.
Centre Henson is already at Toulon, having arrived there via Saracens after parting company with the Ospreys in October.
Meanwhile Phillips is being linked with a possible move to Toulouse in the wake of reports he will leave the Ospreys at the end of the season.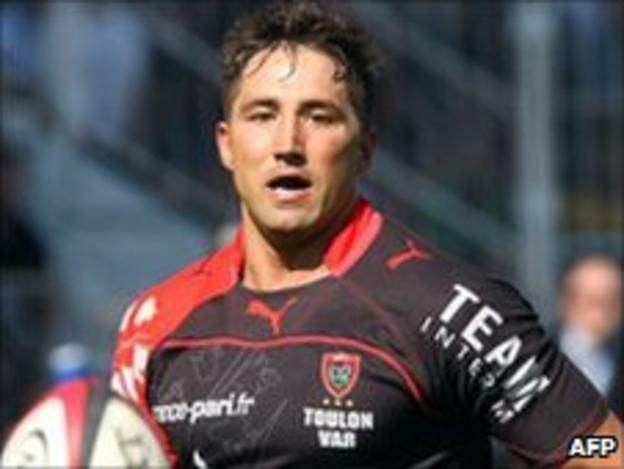 And the other side of the world, number eight Gareth Delve - who has 11 caps for Wales - has earned rave reviews following his arrival in Super 15 rugby with new team Melbourne Rebels.
Ex-Wales scrum-half Howley - who ended his career as a Heineken Cup winner at Wasps - says the national team management want to continue with their policy of preferring their star players to remain with the four Welsh regions.
But he says Wales' playing resources are such that they cannot follow England in declaring they will pick only home-based players after the 2011 World Cup.
Howley said: "Obviously England have come out and said in terms of post-rugby World Cup what they're doing with international players away in France in particular, we have to gauge that on an individual basis.
"And I think that's the important issue. It's on an individual basis, it's not one rule for everyone.
"Because the strength in depth of Welsh rugby in terms of what we've got... we can't lose that amount of talent to foreign parts.
"So it's on an individual basis we have to make that decision."
Howley says those players who have - or plan to - sign contracts with clubs in England or France should ensure they remain available to prepare and play in all of Wales' games.
"In terms of demand and supply, sport's a very short career in rugby terms and no doubt there's difficult decisions for players to make.
"And it's a decision that all rugby directors have to make in terms of the amount of money now which top-class international rugby players are asking.
"Sometimes home-grown talent may be the right option.
"It's obviously disappointing to lose the likes of James Hook going to France and Lee Byrne is going and obviously we've got the summer to wait and obviously the Rugby World Cup to play as well.
"And there is going to be a fall-out after the World Cup... not from only our players, but players from the southern hemisphere coming over into the UK.
"But it's important that we stick to our policies over the last three-four years and we want to select those players who are playing in Wales.
"We've always said that if there's a 50-50 decision between a player playing well in Wales and a player who's playing outside Wales we'll go with that player playing in Wales.
"And that won't change over the next 12 months."