Guernsey rugby crowd support 'vital' to club - chairman
Last updated on .From the section Rugby Union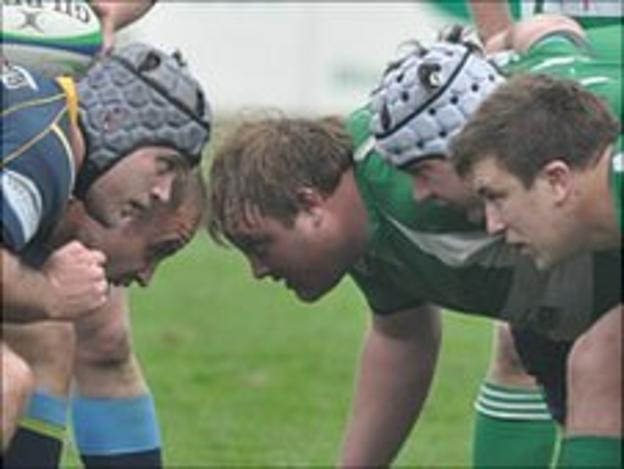 The support of islanders has been vital to the success of Guernsey rugby club this season, according to its chairman.
Guernsey face Trojans in the last game of the season to decide who will be promoted from London Two South West at Footes Lane on Saturday.
Carl Johnson said: "We have probably the best facility any of the teams in our league.
"It can be intimidating for visiting teams when we have a big vocal crowd - it's worth 10-15 points for us."
In the last seven months Guernsey have dominated the top of the table with only a few hiccups along the way.
Guernsey started the season with an away win over Trojans, but with just four points separating the two the home match has become a first versus second season finale.
Those who finish top get automatic promotion to London One South and those in second go into play-offs for a promotion place.
Last season Guernsey lost out to Hove 17-14 in those play-offs.
Johnson said: "We're already in the highest league Guernsey has ever been in so to attain promotion to London One South would be a first for the club and the island.
"It was a league that Jersey [who currently play in National Two South] played in only three or four seasons ago so it's very competitive and we're pretty excited."
He said of the game: "We're sitting four points ahead of Trojans going into the match, a win counts for four points and then there is an extra point for scoring four tries.
"So Trojans actually need a bonus point win to automatically gain promotion themselves, so it's all for us to play for.
"Obviously going into a game like this you have to put that to the back of your mind and always play for a win."