Guernsey Rugby Club promoted despite narrow defeat
Last updated on .From the section Rugby Union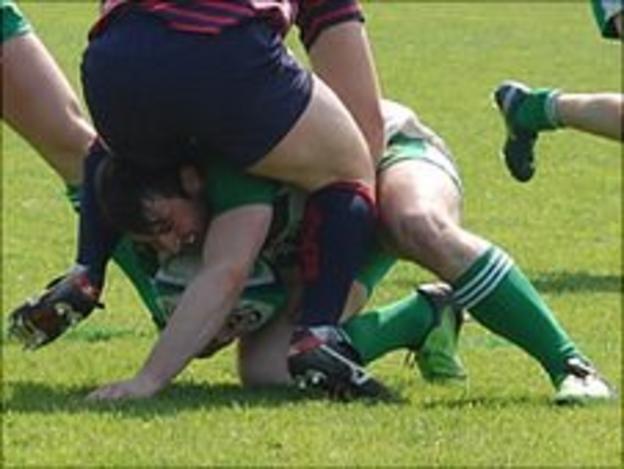 A one-point defeat by Trojans on Saturday was still enough to see Guernsey Rugby Club finish top of the London Two South West league table.
The 16-15 defeat at Footes Lane meant Guernsey finished one point ahead of their rivals and will play in London One South next season.
Trojans, from Southampton, will go into play-offs for a promotion into the same division.
Guernsey captain Blair Campbell described the victory as "bittersweet".
He said: "We got promotion, that was our goal, but we lost the game so there are mixed feelings at the moment.
"I think we really dug it out - there's chances we missed but all in all I'm proud of the guys.
"We'll assess in the coming weeks for the Siam Cup, but I think if you reflect on the season it was quite successful."
Coach Jordan Reynolds said: "We've been working really hard for five years for this - we're bitter at losing but Trojans were quite good.
"They really needed that win to get the play-off spot and they got it, so fair play to them."
Trojan's captain Chris Hamp said: "It's a bit of an empty win if I'm honest, we came over here trying to get the five points and stop them getting anything.
"It was going to be a big ask anyway, but it's nice to get the win, which is the main thing - it was a cracking game."