After North Pole, Richard Parks sets off for Everest
By Richard Parks
Former Wales and Dragons forward
Last updated on .From the section Rugby Union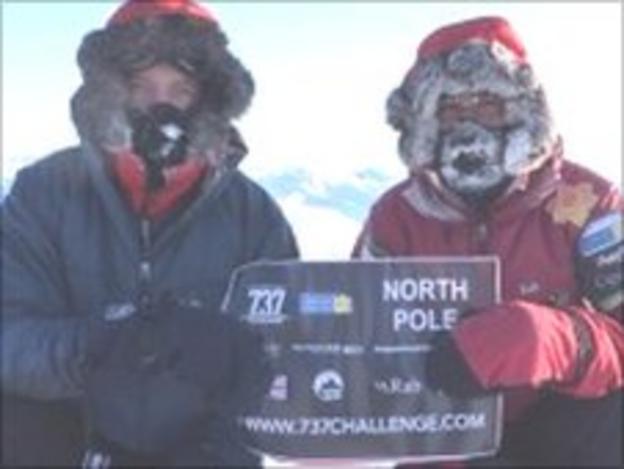 Former Wales International Richard Parks is over halfway through his challenge of reaching seven summits and three Poles in seven months. After reaching the North Pole alongside Olympic rowing medallist Steve Williams, he is off again to tackle the enormous challenge of Mount Everest.
The North Pole was a really tough leg. The challenges were not just physical but mental with the nine- and 10-hours a day
The average temperatures we had over the seven days was -35C with the wind chill and that is a really challenging environment to survive in.
Constantly trying to manage the extremities was probably the hardest. You have to be switched on mentally and frostbite would have been catastrophic going into the other legs.
It was fantastic for me to be joined by double Olympic rowing gold medallist Steve Williams. Going into the North Pole leg I was pretty tired and jaded, but it was a real morale boost to have him there.
The North Pole was quite a specific leg of the project. Steve and I spent some time managing and understanding the ice conditions, the different types of ice and our ability to travel across them.
I did some work at the University of Portsmouth with their cold water immersion tank training, to really prepare myself for the possibility of falling through the ice.
Now going over to Everest, there is a difference in the mentality. The North Pole was a mentally aggressive leg whereas in Everest I will be waiting on the weather window.
There will be a lot of waiting and being patient, which is challenging in its own right. But the skills needed to go to Everest will be similar to the North Pole.
We will have pretty good facilities at base camp, and I will certainly try to eat as much as I can, as one side effect of the altitude is loss of appetite.
When I am on the upper mountains and climbing above base camp I will pretty much be on dehydrated meals, but personally I like noodles, and will be probably be eating a lot of them. They are very light, cook quite quickly and do not take that much water to cook. We are not able to carry water up the entire mountain as every night we will have to stop and melt snow to get our water.
At the moment I am in my bedroom at home, and you cannot see the floor for gear and kit, I am just trying to sort it out, and to keep my bag as light as possible.
But I try and take one luxury item on every trip, as a comfort to remind me of home, but I have not quite decided what I am going to take yet.
As we will be in base camp for so long it might be related to my time there so I might take a pillow, or a pair of jeans. It may sound bizarre to put a pair of jeans on at 5,500m up at base camp, but when you're waiting around, it will be nice to put some jeans on, instead of my climbing gear.
I am carrying a lot of momentum now, mentally I feel confident. Physically I am feeling tired, it is an accumulation of the last four months. The last two legs were particularly tough, physically I am a little bit jaded and tired, but mentally I am actually feeling pretty strong.
There are a lot of challenges ahead, but that's why this project was always going to be difficult, that's why it has not been done before.
Richard Parks was talking to Victoria Turner.