Adrian Hadley fears for Gavin Henson's future
Last updated on .From the section Rugby Union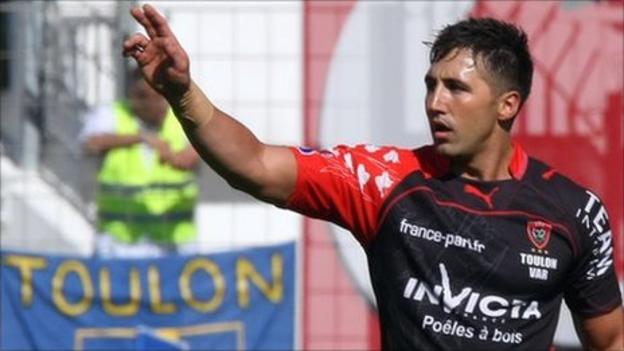 Former Wales wing Adrian Hadley believes Gavin Henson's rugby future could be in doubt after he was suspended for a week by Toulon.
A statement issued by the French Top 14 club said the centre did not "respect the code of good behaviour".
Hadley fears that the 29-year-old double Grand Slam-winner could now find it difficult to earn a new contract.
"He will be up against it for people to actually take him if Toulon do get rid of him," Hadley said.
"He's a talent and that's the upsetting thing about it. If someone can get hold of him and get his head right... how many times have the media said that he's a quality player, but it's the top three inches that lets him down all the time?
"Unfortunately it didn't work at Saracens... he has gone to Toulon, got himself fit, played well in the game he played against Stade Francais and again... he's pushed the self-destruct button."
Henson is expected to have a showdown meeting with Toulon head coach Philippe Saint-Andre next week over the incident that occurred following last Saturday's Top 14 win over Toulouse.
The former Ospreys and Saracens player could face having his contract, which runs until the end of the season, cancelled and dash his hopes of earning a new deal with Toulon for next season.
Henson is no stranger to finding himself in the headlines, both for the right and the wrong reasons, his profile boosted by his relationship to his former partner, singer Charlotte Church.
A frank and controversial 2005 book 'My Grand Slam Year' was not well received by some fellow professionals, who felt it broke a dressing room code that some things between players should stay private.
In December 2007 Henson was questioned by police following allegations that the Bridgend-born player and friends had been rowdy and drunkenly abusive on a train from London to Cardiff.
Henson was not charged, although three of his companions were each fined £400 after admitting being disorderly on a train.
In 2009 Henson was cautioned by police investigating an allegation of assault during a night out with three Wales team-mates.
After negotiating his release from his Ospreys contract following two injury-wrecked seasons, Henson signed for Saracens last October but did not play for the English side until finishing his commitments to appear on two television reality shows.
"It just seems to follow Gavin around doesn't it? Just the on-going saga that when he gets himself settled he comes up with some misdemeanour and gets himself in trouble," Hadley said.
"He's let himself down again. Sometimes some of the comments he comes out with you probably think he's better off keeping things to himself.
"The timing is not good because he only had so many games to play before the end of the season and to get into contention for [Wales] selection for the World Cup.
"However, [Wales attack coach] Rob Howley has said that there is a good possibility that he'll be in there because they have lacked creativity during the Six Nations.
"He just needs game time and it's very difficult when he keeps doing these type of things to get game time consistently.
"He may well have lost it for the World Cup, but having said that the Wales coaching staff could include him in the squad, get him training with the boys and they've got four warm-up games to come."