Gareth Thomas hits out at wayward Wales stars
Last updated on .From the section Rugby Union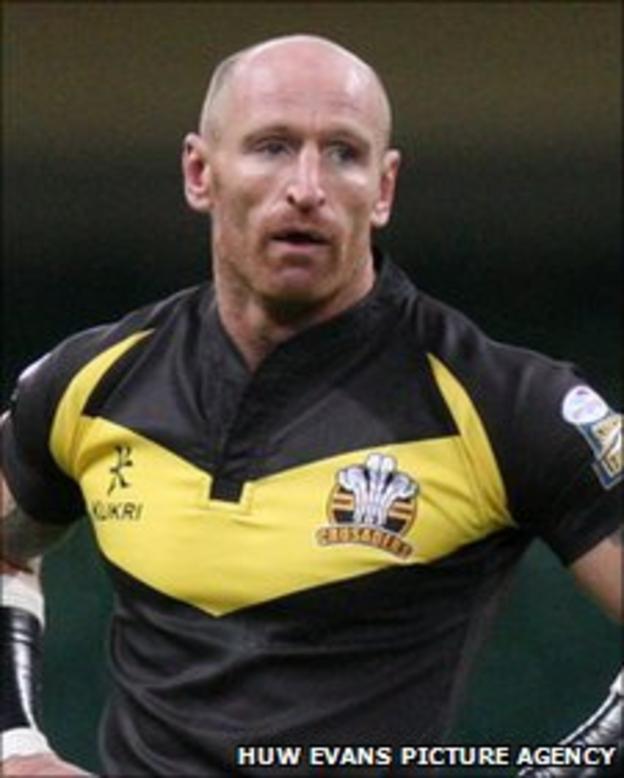 Former Wales captain Gareth Thomas says the nation's rugby stars need to stop landing themselves in trouble.
That came 24 hours after centre Gavin Henson was given a one-week ban by Toulon for breaching club's disciplinary code at the weekend.
"The majority of rugby players take their role model responsibility seriously," said Thomas.
"These people who are getting in trouble really need to look at themselves and say 'I'm here because I want to be here, I'm successful and I want my career to be great for me but also I want to show to other people the kind of person I am'.
"This is just not a nice side of rugby we're seeing at the moment."
Powell and ex-England prop Tim Payne have been suspended by Wasps pending an internal investigation and neither will play for the club while it takes place.
It is the second time in just over a year that Powell has been in trouble after he was banned from driving for 15 months in February 2010 after admitting driving a golf buggy while unfit through drink.
Henson is no stranger to finding himself in the headlines either, both for the right and the wrong reasons, with his profile boosted by his relationship to his former partner, singer Charlotte Church.
A frank and controversial 2005 book 'My Grand Slam Year' was not well received by some fellow professionals, who felt it broke a dressing room code that some things between players should stay private.
In December 2007 Henson was questioned by police following allegations that the Bridgend-born player and friends had been rowdy and drunkenly abusive on a train from London to Cardiff.
Henson was not charged, although three of his companions were each fined £400 after admitting being disorderly on a train.
And in 2009, Henson was cautioned by police investigating an allegation of assault during a night out with three Wales team-mates.
"When I read the article I was rubbing my head thinking how many more situations he can get himself in that has no bearing on the talent of the player," added 100-times capped Thomas, who was found guilty of assault by a French court in 2005 after a drunken brawl in 2002.
"It becomes a tedious task now trying to defend somebody that you like as a person and a player but keeps letting himself down and everybody who defends him.
"I think maybe at this moment in his career he is drinking in the last chance saloon. Maybe even next year he could be sitting down and thinking 'what if?'
"As a professional sports player you want to look back on your career and be proud of everything you've done.
"I think in Gavin's case, he can look back at a long part of his career and really regret, one: not playing; and two: the chances he was given and almost turned it back and thrown it in people's faces."
Only a week ago, Wales and Cardiff Blues lock Bradley Davies was arrested and bailed after an incident involving around 30 people at a bar at a Welsh seaside resort.