Cornish rugby winners remembered 20 years on
By Ross Ellis
BBC Radio Cornwall
Last updated on .From the section Rugby Union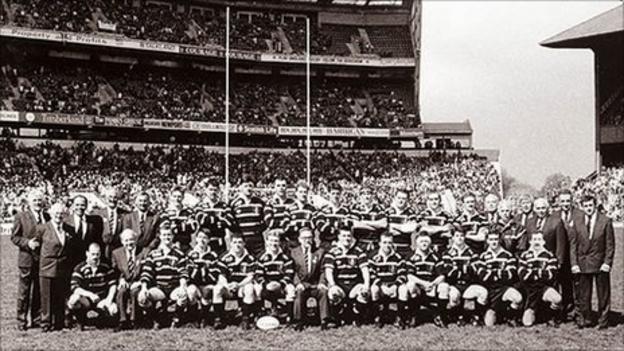 20 April 1991 - a date few rugby supporters in Cornwall will ever forget.
The county's rugby side won the County Championship for the first time since 1908, beating Yorkshire in the final at Twickenham.
"Everyone poured onto the field - it was a sea of Black and Gold," reminisced fly-half Billy Peters, Cornwall's winning try scorer.
An estimated 40,000 Cornish rugby supporters made the pilgrimage east to the home of English rugby to see their side triumph over Yorkshire.
The White Roses were favourites, with the stronger team on paper, and having last reached the final in 1983.
"We were aware of history," said Billy Peters, "It really felt like Cornwall was taking on the rest of the country, we like to think we're special down here."
But once the game was underway, hopes of a Cornish victory began to fade, and with only 20 minutes remaining they trailed Yorkshire 16-3.
The tide turned in Cornwall's favour when scrum-half Richard Nancekivell dived over for a try. Grant Champion slotted home a penalty and Cornwall had clawed their way back into the game.
In the dying seconds, Nancekivell worked his magic once more and darted over for an equalising try - Champion had the chance to win it, but missed the conversion.
With the match locked at 20-20, extra time beckoned.
"The forwards were knocking seven bells out of each other for a long, long time," Peters continued. "Everyone was out on their feet."
But the stand-off was just seconds away from etching his name into Cornish sporting history.
Cornwall's pack sprang into life after the restart. Veteran winger Tommy Bassett crashed over for a try, giving Cornwall the lead for the first time in the match.
Then, with seconds remaining the ball found its way to Peters' hands and he raced over the line to put Cornwall 29-20 ahead.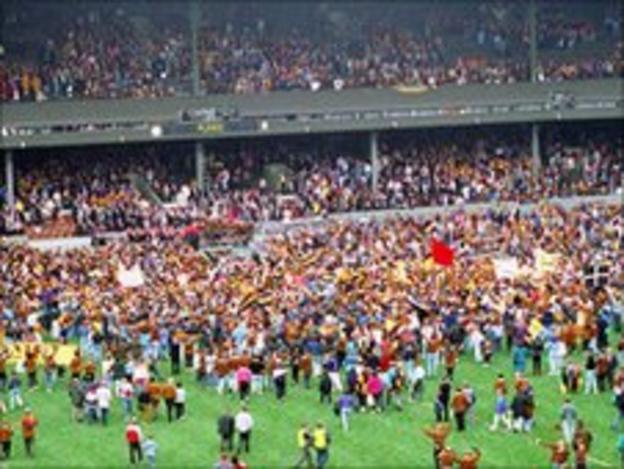 St Pirans flags waved frantically in the stands as the final whistle blew, allowing the legions of Cornish fans to rush onto the pitch and hold their heroes aloft.
"It took a little while for it to dawn on us but there was massive relief," added Peters, "The supporters rushed onto the pitch and I remember getting a massive pat on the back."
The current President of the Cornwall RFU is Dave Martin, he was part of BBC Radio Cornwall's commentary team for the final.
"The green grass of Twickenham quickly became enveloped by thousands and thousands of Cornish supporters," said Martin.
"It really was an amazing scene. One I will never forget."
Cornwall returned to Twickenham to win the County Championship again in 1999, but it was the dramatic fashion in which they won the final on 20 April 1991, that will live long in the memory.