Ospreys can come good - skipper Alun Wyn Jones
Last updated on .From the section Rugby Union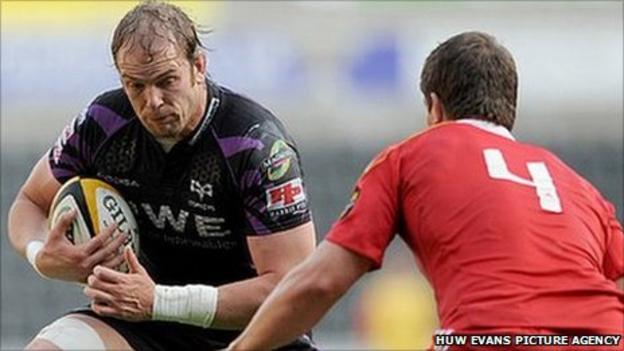 Alun Wyn Jones says the Ospreys can beat Munster in Saturday's Magners League play-off semi-final by "taking their foot of the gas".
The Ospreys skipper says his side's poor recent form has been due to them "trying too hard".
But he is convinced they can come good at Thomond Park
"When we play a lot of disappointing rugby, there's going to be a good game around the corner and we can put that right," said Wyn Jones.
The Wales and British and Irish Lions lock counts the performance in the 12-10 win at Aironi that helped them scrape into the play-offs among their less impressive displays.
But he says proof that the Ospreys can rise to the occasion can be drawn from their 2010 Magners League final triumph over Leinster in Dublin.
The Ospreys could meet Leinster again in the final - Brian O'Driscoll's side face Ulster in Friday's semi-final.
He added: "A lot of people are focusing on the last third of the [2010-11] season, which hasn't been the best bit.
"But the best game we probably played was that last game last season so it shows we can do it when it counts and when it matters and we're looking to do that again this weekend."
Wyn Jones says he and his team-mates' familiarity with their Irish opponents - they have met four times this season already - means they have had a glut of video material to analyse.
But he says for the Ospreys it should be a case of ensuring they add some panache to a strong work ethic.
"We are disappointed with the way we've been performing. There are no excuses about that.
"We know what a good side we are and the funny thing is when we play a lot of disappointing rugby, there's going to be a good game around the corner and we can put that right in these next two games, hopefully.
"We're in good spirits and it's funny - we know where we're going wrong so it's a case of putting that right.
"It's not through work ethic or anything like that because I think part of the problem sometimes is we try too hard.
"And it's a good place to be when people are trying too hard because you just take your foot off the gas and let the ball do the work."
Like the Ospreys, Munster's Heineken Cup campaign ended in disappointment as Toulon won the Pool Threee battle to reach the quarter-finals.
Munster then reached the Amlin Challenge Cup semi-finals, but lost at Thomond Park to Harlequins.
That left them chasing the Ospreys' Celtic League crown.
Wyn Jones said: "You look at it in two ways - you look at us going there being called the underdogs, I suppose, but a wounded Munster is more dangerous than one that's firing on all cylinders etc.
"So we're aware of what happened in the Harlequins game, but the Magners is their final opportunity for silverware, as is ours, so there's quite a lot at stake for both sides."