George Skivington hails Leicester's hunger for success
Last updated on .From the section Rugby Union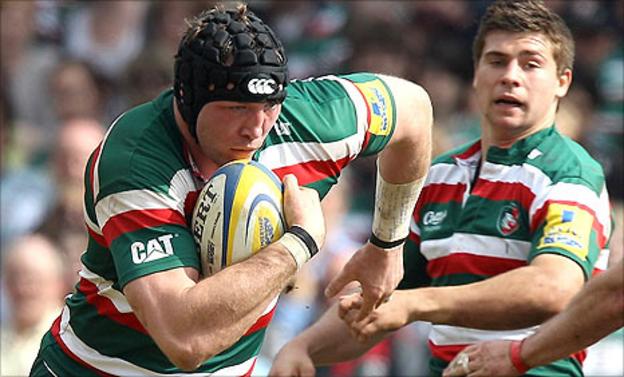 Leicester second row George Skivington sounds like a man in love with his job.
"I've said to so many people I've really enjoyed playing for Leicester this year I've really genuinely enjoyed playing rugby," he tells BBC East Midlands.
"Playing at Welford Road, running out in front of that crowd, when they start stomping their feet when you run on the pitch - it's pretty special."
The 28-year-old lock left Wasps after nine years last summer for the Tigers and has not looked back.
A rock in the Leicester engine room this season he has made 26 appearances - and all but two of those for the full 80 minutes.
The game time has obviously helped Skivington's development but the Warrington-born forward has found the Leicester culture off the field just as illuminating.
"What I didn't appreciate before I came here was how much goes on behind the scenes and how much homework and preparation is done and it's huge here and every little thing counts," he says.
"My knowledge of the technical side of the game has come a long way this year whereas before it was about relying on your natural talents and working hard to be as good an athlete as you can.
"But here I've learned so much about the line-out, scrummaging - the technical side that makes Leicester who they are has really helped my game."
The England Saxons skipper now finds himself on the eve of his first Premiership final after missing the match day squad when the two clubs met in 2008.
Skivington is a former Saracens academy player and will line up against his alma mater on Saturday fully aware of the expectation at his new club.
Tigers are in their seventh successive Premiership final and chasing a fourth championship in five years.
But over his debut season in the East Midlands Skivington has learned that the Tigers' appetite for success is insatiable.
"We all know Saracens will be a little bit bitter and will be right up for it - but so will our boys.
"Something I've noticed this year is that they won last year, they won the year before but the hunger is so much it's as if they have never won anything. They just want to win, win, win.
"It's going to be a hell of a battle," he concludes with a wry smile.