Sale Sharks considering Salford City Reds groundshare
Last updated on .From the section Rugby Union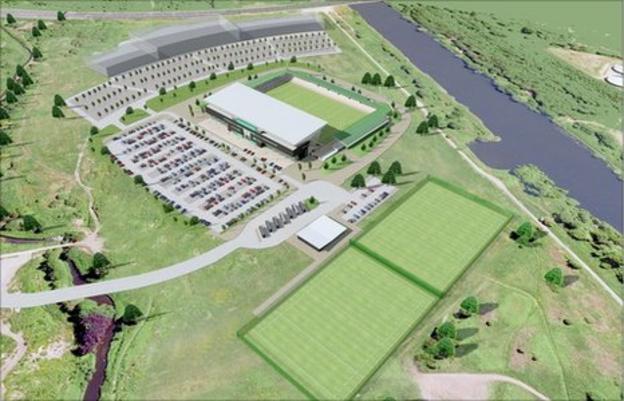 Premiership outfit Sale Sharks are considering a move away from Edgeley Park to rugby league side Salford City Reds' new stadium.
The Reds' £26m City of Salford stadium, which has a capacity of 12,000, is due to officially open next February.
Sale currently groundshare with Stockport County and have already committed to playing there next season.
"We are weighing up all the possibilities," revealed Sharks owner Brian Kennedy.
"There are clearly possibilities in Salford as well as with Edgeley Park and elsewhere. There's a lot of things to consider."
The Barton site, which is situated close to the M60, would be an enticing prospect for Sale, who have seen a decline in attendances in recent years.
And with the Rugby League season running from February to September, there would be little cross over with Union fixtures.
Kennedy owns Edgeley Park through company Cheshire Sports and County, who were relegated from the Football League this season, currently pay rent.
But he was keen to state that the Premiership side have not ruled out staying at the site and have spoken to council leaders about re-developing the ground, which holds 10,000 spectators.
"We're not yet ready to make a decision and we've also got to consider seriously what's right for Stockport County because that's important to us," added Kennedy.
"We are in the process of working on some initiatives that will help Stockport and hopefully give them the best chance of getting back up into League Two.
"So all these things are a factor right now and are in the boiling pot we are considering and hopefully we'll come up with some initiatives over the next month or so.
"But clearly Salford is one option that we are considering very seriously and it's one that the powers that be are keen on. We're in the process of discussions and negotiations and we don't know where that is going to end."