James Haskell ponders future after leaving Stade
Last updated on .From the section Rugby Union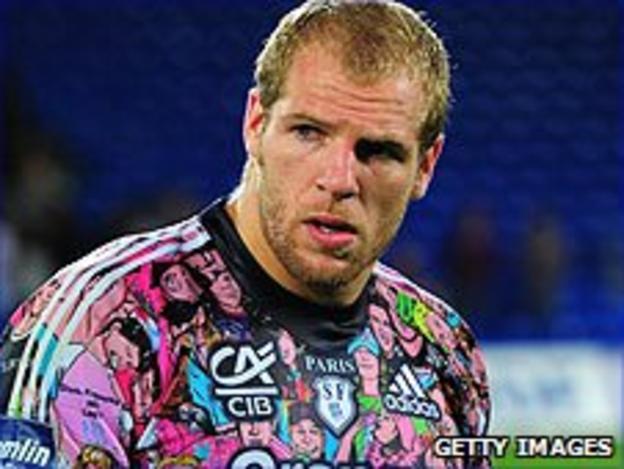 James Haskell has had offers from "every major rugby playing country" after being laid off by Stade Francais, according to a close source.
The source added that the England flanker had been keen to stay with Stade and that the decision to offload him "was not entirely expected".
French giants Stade have been hit by financial troubles and have been forced to discard many big-name players.
"No decisions have been made as yet," the source told BBC Sport.
"He's had expressions of interest from clubs from all over the world - Italy, Ireland, Australia - but it was only confirmed he was leaving on Tuesday, until then he was still a Stade Francais player.
"We couldn't really say it came as a shock but it was not an ongoing process James was aware of. Each week they were saying 'we want you to stay' and offering him a contract, so it was all rather confusing, all done in a very Gallic fashion.
"All the players and everyone involved with the club said what a wonderfully committed player he was and that they're all very sad to see him go. But there was the financial impact and they've had to release a lot of players."
As well as the 26-year-old Haskell, Stade have parted company with Ollie Phillips, Hugo Southwell, Arnaud Marchois, Noel Oelschig, Juan Leguizamon and Mauro Bergamasco.
Haskell, who joined Stade from Wasps in 2009, will join up with England next week and his short-term goal is to make manager Martin Johnson's 30-man squad for this autumn's World Cup in New Zealand.
The source added: "He loved his time in Paris, enjoyed his rugby and his rugby benefited from it, as evidenced by his performances in the Six Nations. He felt his time there wasn't quite finished but now England is his priority."
Haskell's contract included the option of a third year but he was aware that his international future could be affected by his choice of club: after the World Cup, England will pick players who are based outside the country only in exceptional circumstances.