Scotland's Al Kellock in peak shape for World Cup tilt
By Keir Murray
BBC Scotland
Last updated on .From the section Rugby Union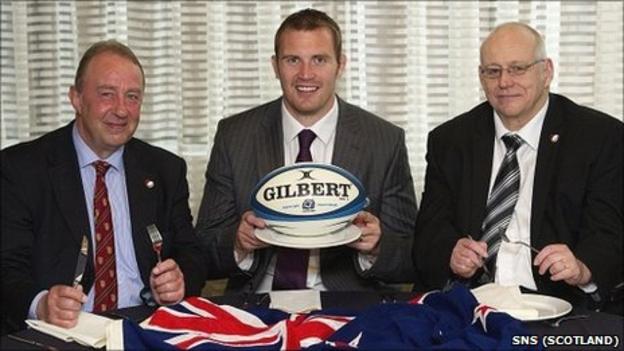 Scotland lock Al Kellock believes he is at peak fitness ahead of the national squad's get-together on Monday.
The Glasgow Warriors star, who captained his country in this year's Six Nations, was rested towards the end of his club's Magners League season.
And now Kellock is raring to go to the World Cup in New Zealand in September.
"I was able to train all the way through the break I had and I have definitely come back in the best condition for a pre-season," he said.
"We were training and weight-lifting six days a week and running about the same, but the fact I wasn't taking impact has made a big difference to how I have come back from my holidays."
Head coach Andy Robinson will assess his 40-strong provisional World Cup squad on Monday and the coming weeks and will cut the numbers to 30 once the team have played warm-up Tests against Ireland and Italy in August.
It will be a curious situation for the players, knowing they must perform at their best to be included in the squad but conscious that injury could scupper their chance of playing in a World Cup.
"You can't go into a game thinking that you've got to be careful," said Kellock.
"If you go into it like that, you are bound to pick up something, so you've got to go into it the same way you would approach every Test match and that's 100% commitment."
Kellock captained the Scots in the Test win in Argentina in 2010 and also in this year's Six Nations, but he is taking nothing for granted for the World Cup.
Asked if he knew if he would again lead out the team, he said: "I don't know. I'm like everybody else, I'm just looking to train hard and I'll take everything else as it comes.
"We'll need to make sure we work as hard as we can in the period leading up to the autumn Tests and play as well as we can in those games and then the decision is Andy's and the rest of the coaching team's.
"But it was a massive occasion to win both of those games and it was an honour to captain Scotland in the Six Nations.
"The Six Nations didn't go as well as we had hoped, but I think we will learn from that and it will improve us for the World Cup."
Romania, Georgia, Argentina and England will provide difficult opposition for Scotland in Invercargill, Wellington and Auckland, but Kellock is undaunted.
"We know they will be extremely good," he told BBC Scotland.
"Look at Romania and Georgia - when they get their strongest teams out, they are very competitive.
"They will have good scrummaging packs, so we will have to make sure that we match them there.
"We have to focus on ourselves for the next wee while. We've got to go in giving ourselves the best chance."
He is confident Scotland can beat England on neutral ground in New Zealand but hopes the ex-pat community will cheer the team on.
Prior to their first match on 10 September against Romania, Kellock will hand over a cheque to help the Christchurch earthquake victims, the cash raised at a charity World Cup send-off dinner.
"I've been fortunate enough to play in New Zealand a couple of times, age-group rugby as well, and the support should be great. The Hearts & Balls dinner will help to raise awareness that we are going over there.
"There are a lot of guys who I have played with who have been touched by the earthquake in Christchurch, so we are delighted that we can help them."
Kellock dismissed the notion that the squad would be affected by the departure from Scottish Rugby of chief executive Gordon McKie earlier this week.
"It won't affect our team spirit," he said. "I've had a great relationship with Gordon at the SRU, he has done a terrific job. I wish him well.
"But I've been focusing on the fact that I've had weights and fitness this morning and I've got fitness this afternoon.
"What happens behind closed doors at Murrayfield - we let other people take care of that and they give us the chance to play."