Coach Richard Webster questions Wales youth structure
Last updated on .From the section Rugby Union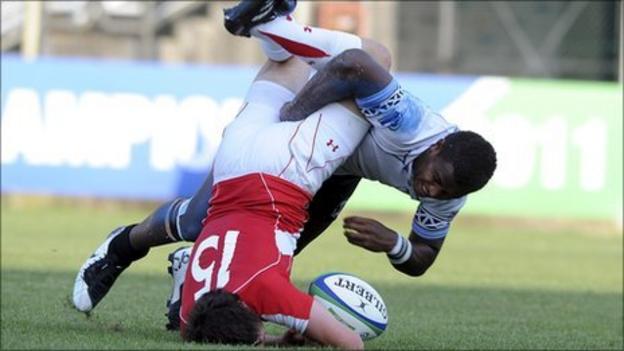 Wales Under-20 coach Richard Webster says the national development structure is failing the best young players.
But former Wales and Lions flanker Webster also criticised the players, claiming they lack the correct attitude to compete against the world's best.
His comments came after Wales' 20-34 defeat to Fiji at the IRB Junior World Championship in Italy on Wednesday.
"We have to find reasons, not excuses, for why talented, strong, people can't perform on this stage," said Webster.
Wales can finish seventh at best at the Junior World Championship after crashing to defeat to Fiji in Padova.
Their hopes of qualifying for the semi-finals ended with a 0-92 humiliation at the hands of New Zealand in the group stages.
Webster's side bounced back to beat Italy 56-6, but he said the players showed a distinct lack of experience and mental toughness in the defeat to Fiji.
"We were naive in the contact area and naive in our execution of everything," said Webster, who was elevated from assistant coach when Darren Edwards took over at the Dragons in April.
"We just didn't turn up. We knew which way we wanted to play. We knew Fiji didn't have a game - they didn't have a lineout, they didn't have a kicking game, they were disorganised in defence.
"In the first 10 minutes we put the game-plan into operation and should have scored two or three tries. I think then the players thought it was going to be easy."
He added: "I'll take the blame as a coach. Did I get them prepared properly? I'd like to think we did.
"Did we have their minds in the right place? I'd like to think we did. But then they go for the 80 minutes and play, they weren't in the right place.
"We told the players not to kick the ball in field, [we told them] to kick it out because we can win Fiji's lineout. But we kicked the ball 10 times and we kicked it in-field six times.
"They scored three tries from in-field kicks. The execution wasn't there."
Before the Fiji set-back, Welsh Rugby Union head of rugby Joe Lydon announced a review into Wales' performance at the tournament and the structure that underpins the nation's age-grade rugby.
Webster said he is particularly concerned about the lack of club games the best Welsh youngsters play.
The vast majority of the squad are attached to Welsh Premiership clubs, with a handful having broken through to one of Wales' regional sides.
But Webster said far too many of them spend too much time on the training ground rather than on the field in competitive games.
"The quality of player is there," he said. "They all train hard and can play the game, but when they are put into situations where they need to operate, they are falling down.
"Is it because we are not playing enough? A lot of these youngsters haven't played a lot this year.
"I'm not trying to make any excuses of our loses out here, I'm not that type of person.
"We're trying to create an elite in the Under-20s, but they are elite in what? They are elite trainers, they are elite at taking supplements, they are elite at looking at videos and looking at computers.
"They aren't elite under pressure and knowing what their bodies can do and what pain is all about."