Mike Phillips back as Wales World Cup squad ban lifted
Last updated on .From the section Rugby Union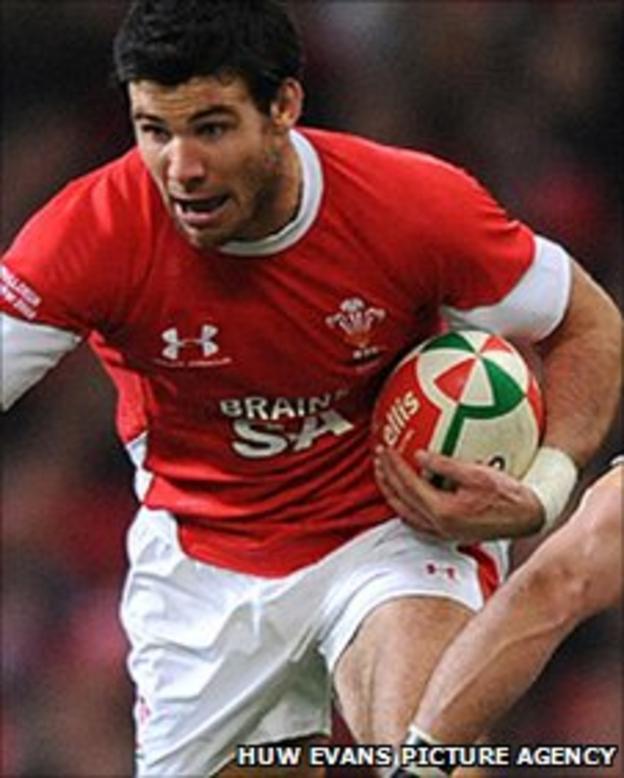 Mike Phillips' Wales squad ban over a late night incident has been lifted and he is back in their preliminary World Cup squad.
Phillips, 29 has apologised to his team-mates and management.
In a statement, he said: "[I] would like to take this opportunity to do exactly the same to the Welsh rugby public and anyone else who has been offended by this or any other episode."
Phillips added: "There have been times I have let myself down."
The 2009 British and Irish Lions scrum-half has recently joined French Top 14 side Bayonne from the Ospreys, but is now back in contention for a place at the World Cup in New Zealand in the autumn.
Cardiff Blues' Lloyd Williams, who Wales coach Warren Gatland called in to replace Phillips when the ban was announced, remains in the squad.
Phillips admits he must now address his off-field behaviour and says he will "seek, help and advice in relation to that issue".
In a statement issued by the Welsh Rugby Union, he said: "This is the most embarrassing thing that has happened to me in my career.
"I am ashamed to have let myself get into this kind of situation and I am determined to put things right.
"As a player I'm really passionate and never back down. I know I can't allow that part of my character to come to the surface off the rugby pitch.
"I have realised I have an issue with the way in which I deal with, and have dealt with, the pressures of my current environment and have sought, and will continue to seek, help and advice in relation to that issue."
Phillips says the incident, in which he was photographed face down while being restrained by a doorman on a pavement in Cardiff City centre, has forced him to face up to his actions.
He added: "The positive thing to come out of everything is that I now fully recognise that I need to deal with these pressures and I am taking every step to ensure that it is resolved.
"I deeply regret my behaviour, my exclusion from the squad took place in the glare of intense publicity and all I can hope for now is the privacy to concentrate totally on convincing the squad management I deserve to keep my place and the public's understanding and support for what I'm trying to do.
"I am a proud Welshman and I remain determined to devote myself to being the best rugby player I can possibly be to gain success for Wales in the World Cup and future tournaments."
Wales twice face England then take on Argentina in August as they build up to the World Cup in New Zealand and coach Gatland says Phillips' return is due to the player being prepared to tackle his behaviour.
"Mike clearly breached the disciplinary code of conduct we have in place and was dealt with decisively and properly," said Gatland.
"We have taken into account all the relevant issues and Mike's apology in taking the decision to reinstate him in the extended RWC squad.
"An important factor in allowing Mike back into the squad was his decision to actively seek help to resolve his behavioural issues."
WRU chief executive Roger Lewis said: "It was very important for us to make it absolutely clear that Welsh rugby will not tolerate inappropriate behaviour.
"The message is now abundantly clear that we represent certain standards which will be maintained at all times both on and off the field of play.
"The Welsh rugby public expect it and deserve it."