Clive Rowlands queries Mike Phillips' Wales return
Last updated on .From the section Rugby Union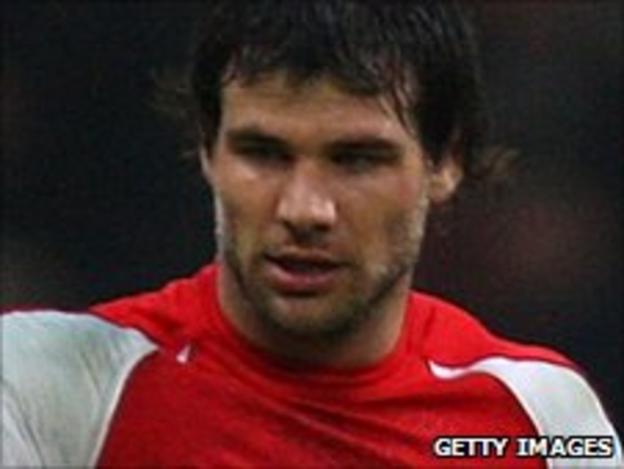 Former Wales coach Clive Rowlands has criticised the Welsh Rugby Union's decision to allow Mike Phillips back into the national squad.
The 29-year-old has apologised to his team-mates and management and his suspension has now been lifted.
"I think he's been let off very lightly," Rowlands told BBC Sport Wales.
Rowlands said he had been disturbed by a number of off the field incidents involving high-profile Welsh players during recent months.
"It worries me what I've read in the press about various things," added Rowlands. "It is of great concern."
In suspending Phillips, WRU chief executive Roger Lewis had said Welsh rugby would not tolerate inappropriate behaviour.
"The message is now abundantly clear that we represent certain standards which will be maintained at all times both on and off the field of play," he said.
"The Welsh rugby public expect it and deserve it."
But Rowlands, national coach between 1968 and 1974, believes the Union have not done enough to punish Phillips for his behaviour.
"When Roger Lewis came out when it happened, I thought it was absolutely correct to have said what he did say at that time," said Rowlands, a former Wales scrum-half.
"But they haven't come on with anything else from it and I think he's been let off lightly.
"I don't think it's the right message, in a World Cup year, where one of your best players is seen to be out at three o'clock in the morning and getting involved in a fight.
"I don't think that's the right message to send to people in his own squad, but certainly it's not the right message to give to young people."
Rowlands said he hoped Phillips would have used his suspension to reflect on his conduct.
"I only hope it is the last time we will hear of anything like this when he's involved with Wales," said the former Swansea player.
"It brings not only himself into disrepute, it brings the squad a little bit as well."