Cardiff Blues role attractive, says Gareth Davies
Last updated on .From the section Rugby Union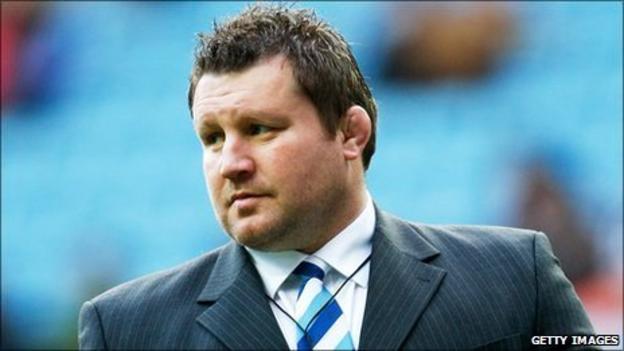 Former Wales fly-half Gareth Davies believes the Cardiff Blues job is an attractive proposition for coaches.
"The thought of coaching Cardiff Blues is very appealing for either a recognised coach or indeed an aspiring, ambitious coach," he said.
"I think [it's] a great opportunity for somebody and coming in on not a great record, the only way is up I suspect."
The saga surrounding Young's future is set to end on Thursday when London Wasps will unveil the 43-year-old former Wales captain as their new director of rugby.
Ex-Wasps director of rugby Tony Hanks has already declared his interest in succeeding Young at Cardiff City Stadium.
"The Blues role is a role that really excites me," New Zealander Hanks told BBC Sport.
And Davies believes the Blues will already have several names in mind to replace Young.
"The Blues themselves will have had time to consider their next step," said Davies, who spent 12 years as a player with Cardiff RFC and later became their chief executive.
"I'm sure the usual names will come to the fore. People such as Rob Howley, Phil Davies, Mike Ruddock [and] Paul Turner.
"They are people I suspect will be available shortly or are available now. [And] I'm sure the Blues will give consideration to their internal folk as well.
"I think their decision will say a lot about the ambitions and the direction in which the Blues are travelling.
"There's been a lot of publicity over the past few months that the Blues are withdrawing significant investment in the future.
"And that maybe, if there is any truth, one of the reasons Dai Young wants to move on.
"If that's the case in their plans for recruiting players, maybe their plans for recruiting a lead coach will be similarly restricted."
Davies said the Blues failed to fulfil their potential during Young's tenure, which spanned nine years.
"I think the team has generally underachieved because there has been a fair bit of investment in players over the years," Davies added.
"They've had some world names at Cardiff, but haven't really challenged at the top level.
"They had a very good run I remember when they beat Gloucester convincingly at Twickenham and then that infamous match, the penalty shoot-out against Leicester in Cardiff.
"But they haven't really shown the consistency and they haven't been regularly knocking at the door."