Jamie Roberts defends Wales players' nights out
Last updated on .From the section Rugby Union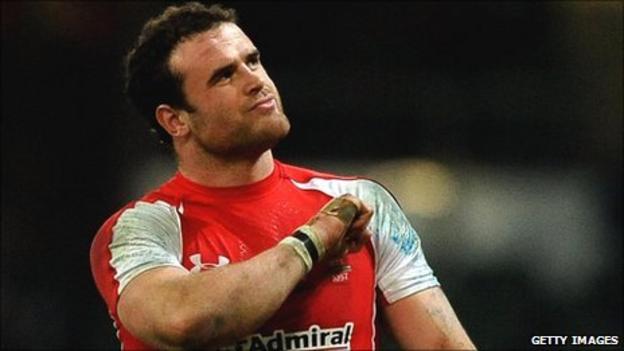 Jamie Roberts says the recent spate of off-field controversies involving Wales rugby players should not act as a deterrent against enjoying a night out.
"We can't afford to go into our shells and become these isolated people," said 24-year-old medical student Roberts.
"That would put across an even worse image. We can't be scared to go out."
But the Wales centre, who was caught up in a nightclub brawl in February, acknowledges they have a duty to act as proper "role models".
The behaviour of Welsh rugby players has again been under scrutiny following a late-night incident involving Mike Phillips in Cardiff City centre in June.
Scrum-half Phillips was restrained face down on the pavement by doormen at a fast food restaurant and then led away in handcuffs by police.
He was suspended by the Welsh Rugby Union from Wales' 45-man World Cup training squad, but welcomed back 10 days later after apologising for his actions and agreeing to seek help for his behaviour.
Roberts attracted the wrong kind of headlines during last season's Six Nations championship when he suffered a cut lip following an incident at a Cardiff nightclub.
He was subsequently criticised by a judge for missing a court case against the man accused of assaulting him and Wales team-mate Jonathan Davies.
The accused, Daniel Richards, was formally cleared of actual bodily harm and common assault after the Crown Prosecution Service was told the case against him could not go ahead without Roberts and Davies appearing as the main witnesses.
Following the judge's comments, the Welsh Rugby Union claimed South Wales Police had told the players "their presence was not required" in court.
"These instances have obviously been unfortunate and the fact that they've come to the public eye makes it all the more unfortunate really," added Roberts.
"Mike was very unlucky and obviously that's been talked about so I won't say too much on that matter.
"As players we realise we're in the public eye and realise the profile we have, and how we are role models to younger players in Wales.
"It's very important we conduct ourselves off the field appropriately. But at the same time, we're all human beings. We train hard, we work very hard and sometimes we need that release.
"Whether that is a night out in Cardiff, it's just very important we conduct ourselves appropriately.
"The last thing, as a player, I'd like to see happen is we become these people who are scared to go out and have a good time.
"We're humans at the end of the day. We're in a job that is understandably in the public eye and understandably with high profiles and we are role models to kids."
Wales squad members Gavin Henson, Andy Powell and Bradley Davies were all involved in separate bar brawls in April, but escaped any punishment from the WRU.
Assistant coach Shaun Edwards was suspended for the final match of last season's Six Nations after an altercation with fellow backroom staff member Fergus Connolly, who was also punished by his employers.
The Phillips incident has prompted WRU chief executive Roger Lewis to issue a statement stressing he will not "tolerate inappropriate behaviour".
Roberts says the players take their responsibility as "role models" seriously and accepts the press scrutiny that comes with their profile as international rugby players.
"We're under no illusions that we live in a goldfish bowl here in Wales and our every move is scrutinised to some extent and headlines are made out of nothing really," said Roberts, who left for Poland with the rest of the Wales squad on Saturday for the first of two week-long training camps.
"But it's very important that doesn't stop us from having a good time. Life is here for everyone to enjoy.
"If we do decide to go on a night out in Cardiff, whether that involves alcohol or not, it's important the players are allowed to do that and have a good time but behave in an appropriate manner."