James Haskell to return to Wasps in 2012
Last updated on .From the section Rugby Union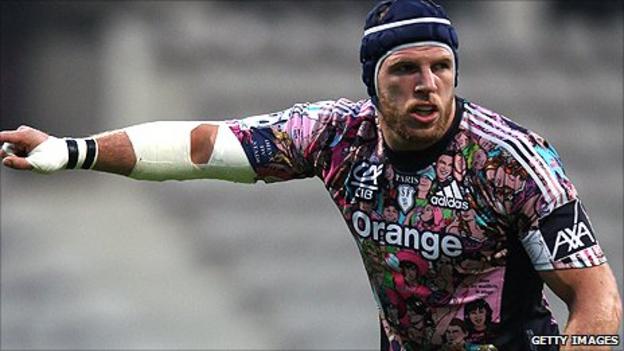 England flanker James Haskell has agreed to rejoin Wasps in 2012 on a three-year deal, after he has completed a spell in Japan.
The 26-year-old, who was released by Stade Francais at the end of last season, will play for Ricoh Black Rams in Japan after this year's World Cup.
He then aims to play a Super 15 season before returning to London in time for the 2012/13 Premiership campaign.
Haskell said he was "flattered and humbled" by Wasps' interest in him.
"As everyone knows my family and I were fans of Wasps long before I was privileged to be invited to join the Wasps Academy," he said.
"So returning to the club that has been pivotal in propelling me to where I am fortunate enough to stand today, was not one of the harder decisions I have ever had to make."
Haskell spent seven years with Wasps before leaving for France in 2009.
He helped Stade reach the final of the European Challenge Cup but he was one of a number of players released by the club at the end of the season.
"I was very sorry having to leave Stade Francais" added Haskell. "I will always remember my time in France with great affection.
"I believe I come back to Wasps both a better player and a more rounded individual as a result of my experiences abroad."
Haskell's immediate task will be to try to secure his place in manager Martin Johnson's World Cup squad.
After the tournament in New Zealand, Haskell will travel to Japan to play for a side coached by Leon Holden, who was interim director of rugby at Wasps at the end of last season.
He will then try to get a contract with a team in the southern hemisphere to play in the Super 15, which runs from February until the summer.
"Wasps have been extremely far-sighted and generous in allowing me to continue my overseas adventures for one more season," said Haskell, who has won 34 caps for England.
"I have a plan which seeks to maximise this unique opportunity before I return to Wasps, by experiencing playing the game in a number of different arenas.
"I hope by exposing myself to different coaching, cultures and playing styles, I will gain a greater understanding of the world game, which will hopefully only but be beneficial to both Wasps and myself for the 2012/13 season."
Wasps have been busy in the transfer market so far this off season after a disappointing campaign in which they finished ninth in the Premiership and failed to make it out of their Heineken Cup pool.
They have signed 10 senior players for the 2011/12 campaign and appointed former Cardiff boss Dai Young as their new rugby director.
Haskell concluded: "I have had lengthy dialogue with the senior management at Wasps and am in no doubt as to their commitment and energy in endeavouring to restore the club to its rightful position at the top of the tree.
"I am hugely encouraged by the quality of the new and proposed signings the club has made."