Tri-Nations could leave sides over-cooked - Nick Easter
Last updated on .From the section Rugby Union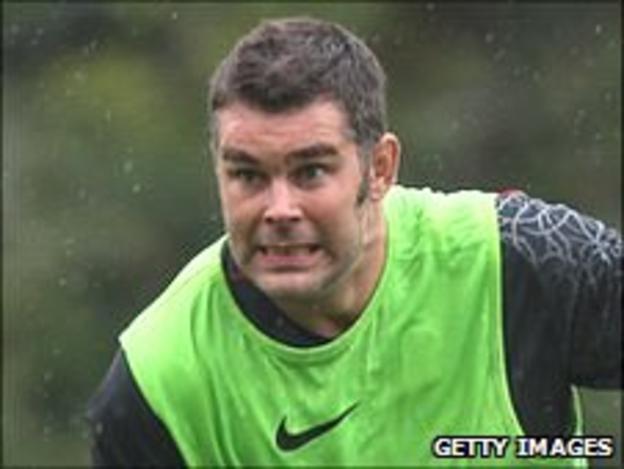 England number eight Nick Easter believes the timing of this year's Tri-Nations may give northern hemisphere teams an advantage in the World Cup.
The tournament, featuring Australia, New Zealand and South Africa, finishes only two weeks before the start of the World Cup on 9 September.
"I am surprised they're playing the Tri-Nations, I hope it leaves them tired," said Easter.
"They might be a little over-cooked, for us it's just like a normal season."
England's domestic season finished at the end of May and they, and players from the rest of the northern hemisphere, have had time to recuperate before the build-up to the World Cup begins in earnest.
In contrast, their southern hemisphere counterparts have been in action in the Super 15, which finishes next weekend, and then go into the Tri-Nations, in which each team plays four matches.
"We don't have any rugby match now until the first warm-up game in August, so we have a good window to train hard and get prepared properly," said Easter.
"But in the southern hemisphere their Super 15 season is longer than usual and has gone on an extra month, then they have the Tri-Nations."
England, who kick off their World Cup bid against Argentina on 10 September, also face Georgia, Romania and Scotland in Pool B, and Easter is pleased with the strength of the opposition.
"Absolutely you want a challenging pool," said Easter, although he admitted: "You don't want it too tough obviously because you could end up giving everything just to get out of it.
"You definitely want some tough games or matches where not everything goes according to plan so you have to work out different situations. In quarter and semi-finals things don't go according to plan and the opposition is as desperate as you to win it.
"If you haven't had that match practice or played under that pressure or intensity in previous matches, you can get caught on the hop. That's certainly what happened to New Zealand the last time around."