Richard Parks eyes the 737 Challenge finish line
By Richard Parks
Former Wales and Dragons forward
Last updated on .From the section Rugby Union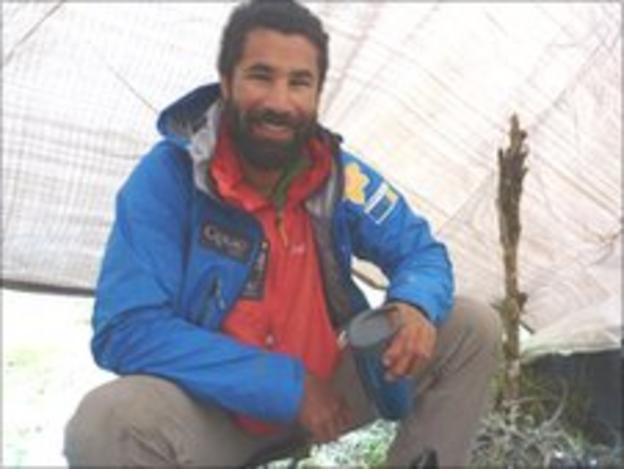 In his latest BBC column, Richard is one climb away from achieving his world-record-breaking aim to reach seven summits and three poles in seven months. He is battling with frostbite which might mean him losing his right big toe and fell down an ice crevasse on his latest climb, Denali in Alaska.
I got back into London Heathrow after climbing Denali, at about midday on Thursday and we left on Friday at 10 o'clock so I was back for just over 20 hours.
It was a pretty tight turnaround, but it was just enough time to put some essentials in the washing machine and just swap over some gear, some different boots and stuff that I'm changing for Europe's highest peak, Mount Elbrus in Russia.
I did weigh up the idea of staying in a London hotel, but I miss my dog too much and also it was cheaper to come home and go back on Friday.
As the challenge has gone it's been close to seven months, pretty much non-stop and I have had periods of missing friends, family and all things comfortable back home.
It's been a pretty emotional roller coaster so it was great to come home, even if it was just for one night.
I always knew Denali was potentially going to be one of the toughest legs of the challenge.
I really doubted I was even going to have the opportunity to step foot on the mountain at one point with the frostbite on my toe but with the help of so many people back in Wales I managed to get to a point where I felt strong enough and the toe healed sufficiently enough to continue.
Then the first day on Denali she tried to put a spanner in the works again.
The fall was about six or seven metres. The chamber I was in was probably the size of an average room in a house. The particularly scary bit was just to my left, as I looked through the crevasse, was a chamber that must have been the size of a cinema. It was absolutely massive.
In some ways the fall wasn't the scariest bit because it happened so quickly but when I was pinned on the ledge of the crevasse and I looked to my left, I'd never seen darkness like it - it was genuinely spooky.
I've got until the end of July to complete Elbrus within seven months. For world record purposes, the clock starts from summit to summit, so although I left Cardiff on 12 September, I set foot on the South Pole on 1 January, so I've got to the end of July to do it within the seven months. However my focus isn't on that, my focus is on getting up and down Elbrus safely and coming back in one piece.
The challenge has not been done in a calendar year yet so whenever I finish, it will be a world first. Obviously I'm trying to do it as fast as I can, but my focus is on getting up and down it safely and protecting my toe as much as I can.
The coldest leg of the challenge by far was the geographical North Pole. It was a really difficult environment to function in. The sun was still very low and pumping out very little solar energy.
I think our average temperature was -39 C for the week and that's relentless. Going into ice baths like I've done in my (rugby) career and the cryotherapy chambers that the national squad are using, that is brutally cold and fair play to them, but what I found particularly difficult about that leg was that there was no hiding place from it, no respite from the cold.
I was really proud of how I applied myself in my rugby career, I felt that I gave 100 per cent. The game has evolved again since my retirement two years ago and these boys are putting their bodies on the line week in week out and it is pretty phenomenal.
You can't compare it with the challenge that I've set myself apart from the one thing I have found. In professional sport everything is done to provide the athletes with the very best environment to perform. Whereas, in the last seven months I've had to perform in less than perfect conditions. It's about making decisions that have pretty major consequences when you're tired, when you haven't slept, when it's cold and when you're wet - that's been the biggest difference.
I've got quite a few events and engagements after the challenge which I'm hoping will keep me busy and raise further funds in aid of a fantastic charity. That's my plan.