Richard Parks secures record with seventh summit
Last updated on .From the section Rugby Union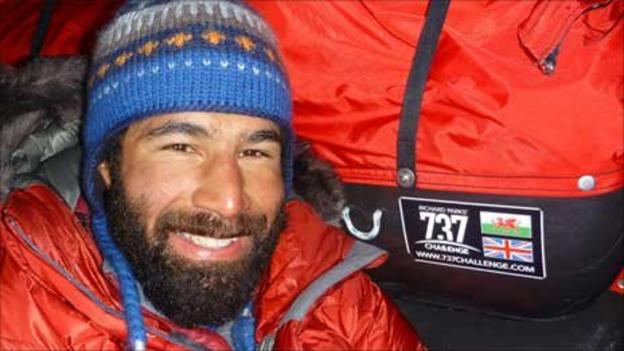 Ex-Wales rugby international Richard Parks has achieved his world record bid to climb the highest mountain on each of the world's continents.
Parks, 33, completed the final leg of the seven-month race by climbing the highest summit in Europe, Russia's Mount Elbrus, on Tuesday.
The challenge took six months, 11 days, seven hours and 53 minutes to complete.
"It hasn't sunk in yet what we've achieved," said Parks from the summit of Elbrus.
"My energy levels went from a quarter of a tank to pretty much bone dry and the last hour of this summit I had to dig pretty deep.
"Mentally it was quite tough...I feel sort of numb.
"It's really hard to put into words."
Parks fell seven metres into a crevasse on Denali in Alaska and has had to overcome frostbite on his right big toe to achieve his 737 Challenge.
"I had every confidence that I'd be able to do it from day one," added former Dragons flanker Parks.
"However some of the hurdles and dramas that we've had in the last seven months, I'd be lying if I said I hadn't had my doubts.
"Physically my body has just about held out.
"I'm not sure if I've got another mountain in me for at least a couple of months."
Parks also reached the North and South Poles and reached the summits of Kilimanjaro (Africa), Everest (Asia), Vinson (Antartica), Aconcagua (South America), Carstensz Pyramid (Australia) as part of the charity challenge.
"To stand on the top of the world's highest mountains and some of the most beautiful places on earth, I'm just so grateful to so many people who've made the 737 Challenge possible," he said.
"This project has been about so much more than just me."