Graham Henry wary of All Blacks burnout for World Cup
Last updated on .From the section Rugby Union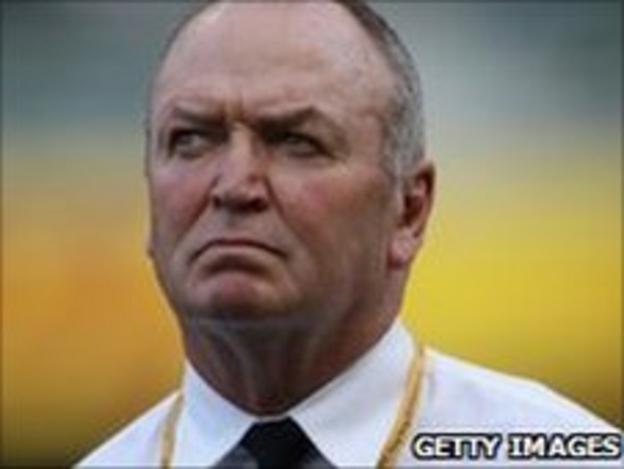 New Zealand coach Graham Henry admits many of his players are "overdone" as they prepare to begin a Test season which will culminate in the World Cup.
The All Blacks play Fiji next Friday, 22 July, before four matches in the Tri-Nations series, which does not finish until two weeks before the RWC.
Henry believes he will have to "bring players down" and rest players before the World Cup starts on 9 September.
"A lot of them are overdone at the moment," he told BBC Radio 5live.
"Take [Super 15 finalists] the Crusaders for example. They have been all over the world and have been playing on a lot of emotion. They can't maintain that level of intensity for the next three months.
"So even though we're going into an international season, we're going to have to bring the players down to bring them back up again. That's going to be a major challenge.
"I think we need to take each individual as an individual and work with them to make sure they're the best they can be come the World Cup.
"Some players have played too much football, and have had a very emotional experience during that time. Others have been injured and haven't played. They're all different and we're going to have to treat them as individuals to allow them to peak at the right time."
After winning the inaugural Rugby World Cup in 1987, the All Blacks have failed to win the trophy again, despite having gone into several of the tournaments as hot favourites.
They are almost certain to be favourites for this year's World Cup as well, and Henry admits the pressure on his side is massive - especially as they will be playing on home soil, as they did in 1987.
"There's huge expectation here," Henry admitted. "I think you always feel the heat and the need to deliver. All international coaches - no matter what sport - will say that. And the need for that takes away the pressure as you don't have time to think about the pressure.
"I'm excited about it and I'm sure the players are. We're really looking forward to playing in front of our own people."
Henry thinks England can be one of the biggest challengers to his side in New Zealand.
"I think the English side is getting better and better and Martin Johnson has done a great job with them," he said. "They have got the potential to be a very fine side in the World Cup I think.
"The Irish have got an all-round side, and have plenty of potency behind the forwards - they could be a threat too. And we'd be foolish not to think the French are a threat; if we haven't learnt from the past [World Cup defeats] we never will."
France shocked the All Blacks 20-18 in Cardiff in the quarter-finals of the last World Cup four years ago, and the Tricolores famously launched a stunning comeback to beat New Zealand 43-31 at Twickenham in the 1999 semi-finals.
"We've got them in our pool and I think that's an advantage - we'd rather have them in the pool than the knock-out stages," Henry added.
Listen to the full interview with Graham Henry on 5 live Rugby on BBC iPlayer.
Graham Henry, All Blacks captain Richie McCaw and fly-half Dan Carter have helped launch www.therugbysite.com, a new website dedicated to helping everyone involved in rugby learn from the best players and coaches in the game.