New Zealand approve all-black World Cup kit for England
Last updated on .From the section Rugby Union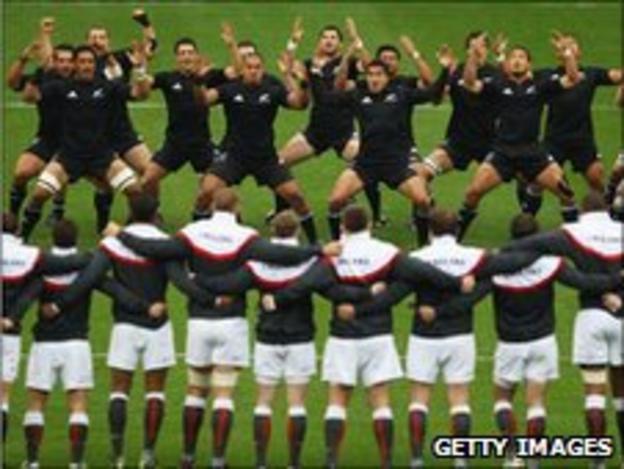 The Rugby Football Union (RFU) have insisted that hosts New Zealand are happy for England to wear a new all-black away kit at the World Cup.
England's new change strip - the same colour as New Zealand's 127-year-old All Black jersey - will be worn in their opening match against Argentina.
An RFU spokesman said: "We believe the black shirt will prove popular with supporters."
England will wear their traditional white strip in other group games.
Should there be a further clash in later rounds, the new all-black kit could return.
Designers came up with the idea of a black kit to replace the current grey one 18 months ago and, mindful of New Zealand's historic association with the colour, approached the country's officials to seek their approval.
The New Zealand Rugby Union (NZRU) have said they have no qualms with England wearing the strip, which will be unveiled in August.
England, who wore a controversial purple change strip in 2009, will wear the black kit for the first time in their first World Cup warm-up game against Wales on 6 August.
The RFU are confident that the host nation's fans will not be offended by England wearing an all-black strip - the first time they have done so in their history.
"England are obliged by the Rugby World Cup participation agreement to have a change of strip," an RFU spokesperson continued.
"And, fully aware of the significance of a black shirt to New Zealand's players and population as a whole, we have fully consulted with the NZRU, who confirmed they had no issues.
"England will therefore wear the black shirt against Argentina at the Otago Stadium in Dunedin on 10 September due to a clash with the light blue and white of the Pumas.
"Revenues from the kit sales will be ploughed back into the grassroots of the game as part of the Rugby Football Union's £20m-plus investment in the sport each year."