Delighted Richard Parks reflects on successful mission
By Richard Parks
Former Wales and Dragons forward
Last updated on .From the section Rugby Union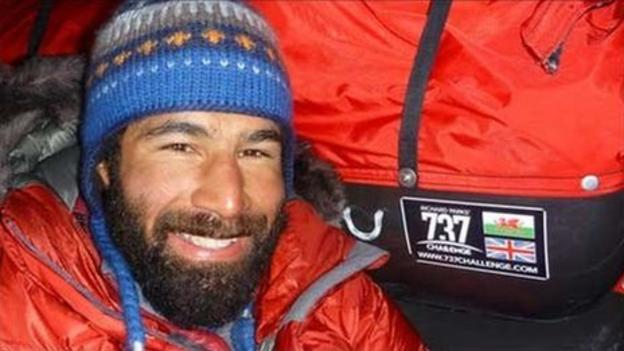 In his latest BBC Wales column, Richard is back in the UK after completing his world-record-breaking aim - the 737 Challenge - to reach seven summits and three poles in seven months. From the Antarctic to the Arctic and up Mount Everest he had to endure serious frostbite as well as a dangerous fall into a crevasse.
People have asked me what my overriding thoughts are after completing the challenge, but to be honest it just hasn't sunk in properly what I have achieved since setting out in January.
The physical and mental endurance I have experienced means that I have not been able to take it all in yet to be honest. It took me six months, 11 days and seven hours, but every minute was worth it.
During that time I reached the North and South Poles, climbed to the summits of Kilimanjaro (Africa), Everest (Asia), Vinson (Antarctica), Aconcagua (South America), Carstensz Pyramid (Australia), Denali (North America) and Elbrus (Europe).
Since arriving back on Saturday I have been holed up in a London hotel and after an appearance on the BBC Breakfast sofa on Tuesday morning I'll be travelling back to Wales.
I just can't wait to get back to south Wales because my first and most important focus is to get back to home and share my experiences with friends and family.
Obviously I am delighted and relieved but I have struggled to come to terms with we have achieved.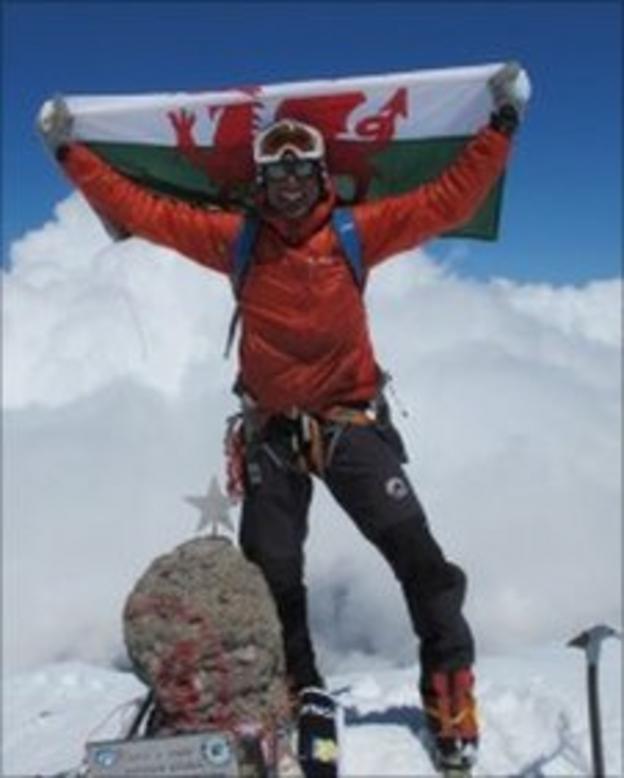 It has been seven months packed with incredible highs and some pretty harrowing lows.
I don't use the word lightly but it has been a real privilege to have done what I have done: to visit some of the cultures and climbed the mountains I have, and to be able raise money for my cancer charity.
The highs have been amazing and the lows have been challenging to say the least. One of the big highs was Antarctica. That continent really touched me and the time I had there I hold particularly dear.
But I suppose the out-and-out highlight for me has to be Denali.
It was an emotional roller coaster coming off Everest with frostbite and going straight onto Denali in Alaska, and then having that horrendous fall through the crevasse.
There were so many hurdles we had to overcome, but we pulled ourselves together and it was just fantastic to get up and off the mountain as quickly as we did.
Carstensz Pyramid is when I really hit my first emotional and physical wall of the challenge. We had had some trouble back home with regards finance and the logistics.
The trek in was a challenge - I got a chest infection, and then developing frostbite on Everest threw everything up in the air.
In no way do I see frostbite as some sort of badge of honour. At least the prognosis is as good as it possibly could be considering where I was and having had it during the last two stages.
I'm confident that I will only lose a very small part of my big toe and hopefully it should make a pretty good recovery.
The crevasse fall was the worst they had recorded on Denali in at least 10 years. But I guess it was never going to be easy. I was grateful to my climbing partner Matt Parks for helping me through that experience
I was incredibly unlucky to fall into it in the first place, but at the same time I was also lucky to come out of it unscathed.
I landed on my back but my fall was broken by my rucksack. I was stuck seven metres down for more than an hour getting dripped on by the glacier and I came out of it feeling very cold and wet with a couple of mental scars.
I prepared meticulously in the 18 months leading up to the challenge mentally, logistically and technically, and to come out of it reasonably unscathed is a testament to the preparation.
What the immediate future will bring I don't know but the bottom line is that I have to get a some kind of job at some stage because without labouring the point I need the money.
All the savings I made from my rugby career have now gone because I have invested them in the challenge. I have not only used all my assets I have amassed some debts as well.
What i would like is to go back to the mountains and maybe use that as a job. But who knows?
What I do know: if I was offered a similar challenge I would do it all again in a heartbeat even though it has taken its toll.
'Richard Parks - Conquering the World' is broadcast at 2235 BST for three weeks starting on Tuesday, July 26.