Will Hooley's agony over Australia withdrawal decision

By Freddie Clamp
Kick-Off reporter, BBC Radio Cambridgeshire
Last updated on .From the section Rugby Union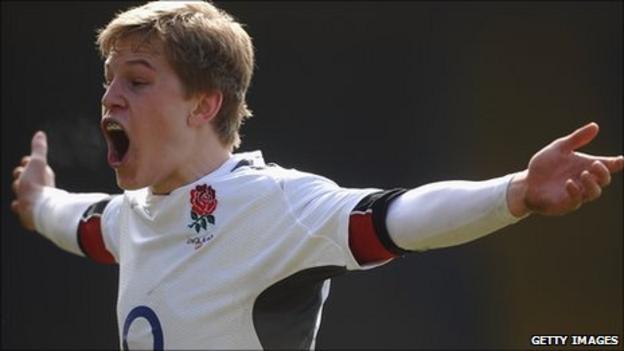 As Will Hooley sits on his sofa in north Cambridge, he will be wishing his fellow England Under-18s well on their tour of Australia, yet ruing his injured hip.
The fly-half, a prominent member of the squad, was assured of a seat on the plane Down Under, yet took the brave decision to withdraw from the touring party following his injury.
"As a 17-year-old it is agonising to turn down a trip to Australia like this," he told BBC Radio Cambridgeshire.
"I've pulled myself out as I need to get it right for the long term."
Hooley had long been earmarked for success; he was selected to take part in the BBC TV Programme Jonny Wilkinson Hotshots in 2005 and has clearly learned from the opportunity.
His natural talent was in evidence, even at the tender age of 11 years old.
"Being around Johnny was an experience to remember, the way he trains and the way he treats people is at the highest level," the Northampton Saints academy prospect explained.
"They talk about professionals both off and on the pitch, he certainly was one. Learning both those sides was a fantastic experience."
They say success breeds success, and in 2009 Hooley helped his school team win the Daily Mail Vase Cup at Twickenham, a memory he will never forget.
"It was an amazing occasion; the best thing about it was that I was doing it with all my mates," he said.
"Playing at Twickenham was a dream come true. You feel really privileged as even some professional players haven't played at Twickenham."
Buoyed by the success at the home of rugby, Hooley excelled for the Northampton Saints academy, and was selected for England Under-16s, undoubtedly his crowning moment to date.
The feeling as he pulled the England jersey over his shoulders will be a moment he will cherish forever.
"Playing for England was my Everest, it was the peak of my career so far," he said.
"The pressure and the nerves were so high. The position I play in, fly-half, you are always under pressure, and playing for your country in an international was immense."
Hooley wisely notes a potential playing career will not span his lifetime and intends to achieve good A-Level results at the end of his schooling next year, followed, he hopes, by a professional contract with the Saints.
If he maintains a wise head on his regularly broadening shoulders, he is likely to achieve further success both in the near and distant future.
"I want to finish school and finish it well, get good results so that I have it in my pocket," he added.
"Sport can be great for five or 10 years but a freak injury may happen and frankly you have to retire at a certain age.
"I would love to go far, but first of all, earn a professional contract with Northampton."