Frank Hadden "confident" ahead of Scots' World Cup tilt
Last updated on .From the section Rugby Union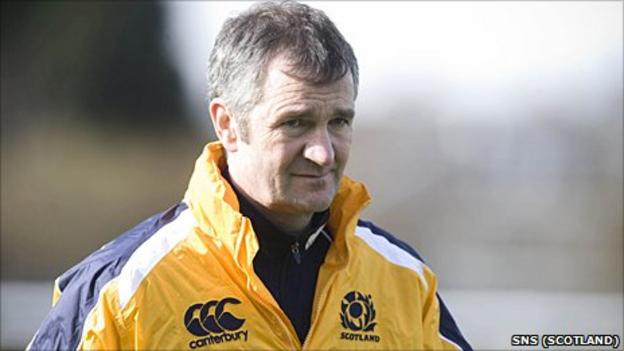 Former Scotland head coach Frank Hadden says he is "quietly confident" about their chances at the World Cup.
The Scots have been drawn in Pool B alongside Argentina, England, Georgia and Romania for the tournament in New Zealand.
And Hadden told BBC Scotland's Sport Nation that two months of preparation would see the Scots improve on their recent Six Nations campaigns.
"I think you'll see a stronger Scotland," he said.
Hadden took charge of Scotland for four years from 2005, guiding the side to 18 victories in 43 internationals before stepping down and being succeeded by Andy Robinson.
The Scots will hold a training camp in Australia before their opening World Cup Pool B match with Romania on 10 September in Invercargill.
Four days later Scotland play their second match against Georgia before the game against Argentina on 25 September and the final group match against England, in Auckland on 1 October.
Hadden, who was in charge of Scotland during the last World Cup, described the draw as "fantastic".
"It really couldn't be better," he said. "Not only haven't we got any really tough minnows from the Pacific Islands, but the balance of the games is really good as well.
"There's a four-day gap between Romania and Georgia but I think that's manageable. Then there's 10 days, then six, then seven to the quarter-finals, so that's a good result for us.
"I think we've got a very mature squad and they'll enjoy the space between the games."
Hadden, who received criticism in some quarters for getting his players to "bulk up" during his Scotland tenure, defended his strategy.
"I've always felt in Scotland we struggled a bit, especially in the early years of professionalism. I was involved from 1997 - we always seemed to struggle physically against the bigger sides," he said.
"So, I took the opportunity in 2007, with a three-month preparation window, to really have a go at bulking up and I think personally it's paid dividends.
"I know the focus is now more on speed but at least they've got that size and bulk that gives you confidence going into contact with the big guns."